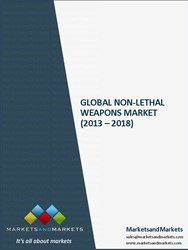 Rockville, MD (PRWEB) September 25, 2013
Non-Lethal Weapons Market (2013 – 2018)
This report presents a complete analysis of the global non-lethal weapons market across the forecast period. It analyzes the factors driving the market, the challenges faced by the industry, and the factors restraining the growth of the market. It also discusses the key industry trends, market trends, and technology trends that are about to influence the global market. The report provides a complete market size of the global market over the next five years and talks about the market share by different sub-sectors.
Key Takeaways:
-The global market is estimated to be $880.5 million in 2013 and is expected to register a CAGR of 5.42% to reach $1,146.2 million by 2018;
-The change in the nature of warfare from conventional to insurgency and war in urban terrain has been a driving factor for the non-lethal weapons sector;
-The sector is highly competitive with a host of industry participants vying for contracts, and austerity in most western countries is expected to increase competition;
-High growth sectors in the global market includes the U.S. with a CAGR of 5.05%, followed by Russia with a CAGR of 8.5%; Europe is expected to spend around $1,921.9 million, North America is expected to spend around $1,238.8 million, and Asia is anticipated to spend $1,146.1 million on these weapons across the forecast period;
-Crowd dispersal non-lethal weapons segment is expected to have the highest demand in this market;
-Budget cuts in most Western countries are anticipated to have minimal impact on the market;
-The U.S. is expected to procure around $1,186.5 million worth of these weapons across the forecast period;
-The industry is fragmented and most of the tier-1 players are from U.S. and Europe;
-Increase in joint development and production and public-private partnerships are anticipated.
To order this report:
Non-Lethal Weapons Market (2013 – 2018)
Contact: Shauna
800.298.5699
Customerservice(at)marketresearch(dot)com
About MarketsandMarkets
The MarketsandMarkets edge: Worldwide, market research reports are primarily sold for numbers, market segmentation and competitive landscape, within the business leaders.
The analyst working with MarketsandMarkets come from the renowned publishing houses and market research firms globally adding their expertise and domain understanding. We get the facts from over 22,000 news and information sources, a database of hundred thousands of key industry participants and draw on our relationship with more than 900 market research companies globally.
In the course of our ongoing relationship with research partners for over a period of three years, our clients have discovered that we can not only head-start any given research project immediately but also execute it in a stipulated time frame. We always prioritize our commitments of confidentiality. The fact that a high percentage of our business comes from client referrals bears ample testimony to the quality of our market research reports.
About MarketResearch.com
As the industry leader in market research, Marketresearch.com helps you make the difficult corporate decisions you face every day. We provide consumer research and business data to guide you through the complex and dynamic business world in which we work. We are analysts and account managers, writers and publishers and we all share the same goal – to help you better understand your customer, market and competition; and to help you drive your business growth.
Call us, email us, like us, or follow us – but do get in touch. We're here to help. For more information, call Cindy Frei at 240.747.3014 or visit us at MarketResearch.com.
Non-Lethal Weapons Market (2013 – 2018) – Table of Contents:
1 Introduction
2 Executive Summary
3 Market Overview
4 Market Dynamics
5 Trend Analysis
6 Market Analysis & Forecast
7 Competitive Landscape
8 Company Profiles
List Of Tables
Table 1 General Assumptions, Terminologies, And Application Key Notes
Table 2 Global Non-lethal Weapons Market: Revenue Forecast, 2013 – 2018 ($million)
Table 3 Bae Systems Plc: Financial Overview, 2008 – 2012 ($billion)
Table 4 Boeing Defense Space And Security: Financial Overview, 2008 – 2012 ($billion)
Table 5 General Dynamics Corporation: Financial Overview, 2007 - 2011 ($billion)
Table 6 Lamperd Less Lethal, Inc.: Financial Overview, 2010 – 2012 ($billion)
Table 7 Metal Storm Ltd: Financial Overview, 2008 – 2011 ($billion)
Table 8 Moog, Inc.: Financial Overview, 2009–2012 ($billion)
Table 9 Qinetiq Group Plc: Financial Overview, 2010 – 2013 ($billion)
Table 10 Raytheon Company: Financial Overview, 2008 – 2012 ($billion)
Table 11 Taser International, Inc.: Financial Overview, 2009 – 2012 ($billion)
Table 12 Textron Systems: Financial Overview, 2009 – 2012 ($billion)
List Of Figures
Figure 1 Global Non-lethal Weapons: Markets Covered
Figure 2 Market Research Methodology
Figure 3 Global Non-lethal Weapons Market, Revenue Forecast, 2013 – 2018 ($million)
Figure 4 Non-lethal Weapons Market: Blunt Impact Non-lethal Weapon, Market Forecast, 2013 – 2018 ($million)
Figure 5 Non-lethal Weapons Market: Disperse Non-lethal Weapon, Market Forecast, 2013 – 2018 ($million)
Figure 6 Non-lethal Weapons Market: Anti-vehicle Non-lethal Weapon, Market Forecast, 2013 – 2018 ($million)
Figure 7 Non-lethal Weapons Market: Directed Energy Non-lethal Weapons, Market Forecast, 2013 – 2018 ($million)
Figure 8 Non-lethal Weapons Market: Non-lethal Electrical Devices, Market Forecast, 2013 – 2018 ($million)
Figure 9 Africa: Non-lethal Weapons Market, Market Estimation, 2013 – 2018 ($million)
Figure 10 Africa: Non-lethal Weapons Market, Sub-system Split, 2013 – 2018 ($million)
Figure 11 Asia: Non-lethal Weapons Market, Market Estimation, 2013 – 2018 ($million)
Figure 12 Asia: Non-lethal Weapons Market, Sub-system Split, 2013 – 2018 ($million)
Figure 13 Europe: Non-lethal Weapons Market, Market Estimation, 2013 – 2018 ($million)
Figure 14 Europe: Non-lethal Weapons Market, Sub-system Split, 2013 – 2018 ($million)
Figure 15 Latin America: Non-lethal Weapons Market, Market Estimation, 2013 – 2018 ($million)
Figure 16 Latin America: Non-lethal Weapons Market, Sub-system Split, 2013 – 2018 ($million)
Figure 17 Middle East: Non-lethal Weapons Market, Market Estimation, 2013 – 2018 ($million)
Figure 18 Middle East: Non-lethal Weapons Market, Sub-system Split, 2013 – 2018 ($million)
Figure 19 North America: Non-lethal Weapons Market, Market Estimation, 2013 – 2018 ($million)
Figure 20 North America: Non-lethal Weapons Market, Sub-system Split, 2013 – 2018 ($million)
Figure 21 U.S.: Non-lethal Weapons, Market Forecast, 2013 – 2018 ($million)
Figure 22 Impact Analysis Of Issues Leading To Outbursts
Figure 23 U.S.: Non-lethal Weapons Market, Sub-system Split, 2013 – 2018 ($million)
Figure 24 U.K.: Non-lethal Weapons, Market Forecast, 2013 – 2018 ($million)
Figure 25 Impact Analysis Of Issues Leading To Outbursts
Figure 26 U.K.: Non-lethal Weapons Market, Sub-system Split, 2013 – 2018 ($million)
Figure 27 Italy: Non-lethal Weapons, Market Forecast, 2013 – 2018 ($million)
Figure 28 Impact Analysis Of Issues Leading To Outbursts
Figure 29 Italy: Non-lethal Weapons Market, Sub-system Split, 2013 – 2018 ($million)
Figure 30 France: Non-lethal Weapons, Market Forecast, 2013 – 2018 ($million)
Figure 31 Impact Analysis Of Issues Leading To Outbursts
Figure 32 France: Non-lethal Weapons Market, Sub-system Split, 2013 – 2018 ($million)
Figure 33 Germany: Non-lethal Weapons, Market Forecast, 2013 – 2018 ($million)
Figure 34 Impact Analysis Of Issues Leading To Outbursts
Figure 35 Germany: Non-lethal Weapons Market, Sub-system Split, 2013 – 2018 ($million)
Figure 36 China: Non-lethal Weapons, Market Forecast, 2013 – 2018 ($million)
Figure 37 Impact Analysis Of Issues Leading To Outbursts
Figure 38 China: Non-lethal Weapons Market, Sub-system Split, 2013 – 2018 ($million)
Figure 39 India: Non-lethal Weapons, Market Forecast, 2013 – 2018 ($million)
Figure 40 Impact Analysis Of Issues Leading To Outbursts
Figure 41 India: Non-lethal Weapons Market, Sub-system Split, 2013 – 2018 ($million)
Figure 42 Australia: Non-lethal Weapons, Market Forecast, 2013 – 2018 ($million)
Figure 43 Impact Analysis Of Issues Leading To Outbursts
Figure 44 Australia: Non-lethal Weapons Market, Sub-system Split, 2013 – 2018 ($million)
Figure 45 Japan: Non-lethal Weapons, Market Forecast, 2013 – 2018 ($million)
Figure 46 Impact Analysis Of Issues Leading To Outbursts
Figure 47 Japan: Non-lethal Weapons Market, Sub-system Split, 2013 – 2018 ($million)
Figure 48 South Korea: Non-lethal Weapons, Market Forecast, 2013 – 2018 ($million)
Figure 49 Impact Analysis Of Issues Leading To Outbursts
Figure 50 South Korea: Non-lethal Weapons Market, Sub-system Split, 2013 – 2018 ($million)
Figure 51 South Africa: Non-lethal Weapons, Market Forecast, 2013 – 2018 ($million)
Figure 52 Impact Analysis Of Issues Leading To Outbursts
Figure 53 South Africa: Non-lethal Weapons Market, Sub-system Split, 2013 - 2018 ($million)
Figure 54 Eygpt: Non-lethal Weapons, Market Forecast, 2013 - 2018 ($million)
Figure 55 Impact Analysis Of Issues Leading To Outbursts
Figure 56 Eygpt: Non Lethal Weapons Market, Sub-system Split, 2013 – 2018 ($million)
Figure 57 Saudi Arabia: Non-lethal Weapons, Market Forecast, 2013 – 2018 ($million)
Figure 58 Impact Analysis Of Issues Leading To Outbursts
Figure 59 Saudi Arabia: Non-lethal Weapons Market, Sub-system Split, 2013 – 2018 ($million)
Figure 60 Israel: Non-lethal Weapons, Market Forecast, 2013 – 2018 ($million)
Figure 61 Impact Analysis Of Issues Leading To Outbursts
Figure 62 Israel: Non-lethal Weapons Market, Sub-system Split, 2013 – 2018 ($million)
Figure 63 United Arab Emirates: Non-lethal Weapons, Market Forecast, 2013 – 2018 ($million)
Figure 64 Impact Analysis Of Issues Leading To Outbursts
Figure 65 United Arab Emirates: Non-lethal Weapons Market, Sub-system Split, 2013 – 2018 ($million)
Figure 66 Argentina: Non-lethal Weapons, Market Forecast, 2013 – 2018 ($million)
Figure 67 Impact Analysis Of Issues Leading To Outbursts
Figure 68 Argentina: Non-lethal Weapons Market, Sub-system Split, 2013 – 2018 ($million)
Figure 69 Colombia: Non-lethal Weapons, Market Forecast, 2013 – 2018 ($million)
Figure 70 Impact Analysis Of Issues Leading To Outbursts
Figure 71 Colombia: Non-lethal Weapons Market, Sub-system Split, 2013 – 2018 ($million)
Figure 72 Sweden: Non-lethal Weapons, Market Forecast, 2013 – 2018 ($million)
Figure 73 Impact Analysis Of Issues Leading To Outbursts
Figure 74 Sweden: Non-lethal Weapons Market, Sub-system Split, 2013 – 2018 ($million)
Figure 75 Indonesia: Non-lethal Weapons, Market Forecast, 2013 – 2018 ($million)
Figure 76 Impact Analysis Of Issues Leading To Outbursts
Figure 77 Indonesia: Non Lethal Weapons Market, Sub-system Split, 2013 – 2018 ($million)
Figure 78 Spain: Non-lethal Weapons, Market Forecast, 2013 – 2018 ($million)
Figure 79 Impact Analysis Of Issues Leading To Outbursts
Figure 80 Spain: Non-lethal Weapons Market, Sub-system Split, 2013 – 2018 ($million)
Figure 81 Mexico: Non-lethal Weapons, Market Forecast, 2013 – 2018 ($million)
Figure 82 Impact Analysis Of Issues Leading To Outbursts
Figure 83 Mexico: Non-lethal Weapons Market, Sub-system Split, 2013 – 2018 ($million)
Figure 84 Poland: Non-lethal Weapons, Market Forecast, 2013 – 2018 ($million)
Figure 85 Impact Analysis Of Issues Leading To Outbursts
Figure 86 Poland: Non-lethal Weapons Market, Sub-system Split, 2013 – 2018 ($million)
Figure 87 Russia: Non-lethal Weapons, Market Forecast, 2013 – 2018 ($million)
Figure 88 Impact Analysis Of Issues Leading To Outbursts
Figure 89 Russia: Non-lethal Weapons Market, Sub-system Split, 2013 – 2018 ($million)
Figure 90 Brazil: Non-lethal Weapons, Market Forecast, 2013 – 2018 ($million)
Figure 91 Impact Analysis Of Issues Leading To Outbursts
Figure 92 Brazil: Non-lethal Weapons Market, Sub-system Split, 2013 – 2018 ($million)
Figure 93 Turkey: Non-lethal Weapons, Market Forecast, 2013 – 2018 ($million)
Figure 94 Impact Analysis Of Issues Leading To Outbursts
Figure 95 Turkey: Non-lethal Weapons Market, Sub-system Split, 2013 – 2018 ($million)
Figure 96 Global Non-lethal Weapons Market: Market Share Analysis, By Company, 2012
Figure 97 Global Non-lethal Weapons Market: Market Share Analysis By Country, 2012
Figure 98 Bae Systems Plc: Revenue Analysis, 2008 – 2012 ($billion)
Figure 99 Bae Systems Plc: Profit Analysis, 2008 – 2012 ($billion)
Figure 100 Boeing Defense Space And Security: Revenue Analysis, 2008 – 2012 ($billion)
Figure 101 Boeing Defense Space And Security: Operating Earnings Analysis, 2008–2012 ($billion)
Figure 102 Boeing Company: Profit Analysis, 2008 – 2012 ($billion)
Figure 103 General Dynamics Corporation: Revenue Analysis, 2007 – 2011 ($billion)
Figure 104 General Dynamics Corporation: Operating Earnings Analysis, 2007 – 2011 ($billion)
Figure 105 General Dynamics Corporation: Profit Analysis, 2007 – 2011 ($billion)
Figure 106 Lamperd Less Lethal, Inc.: Revenue Analysis, 2010 – 2012 ($billion)
Figure 107 Lamperd Less Lethal, Inc.: Operating Income Analysis, 2010 – 2012 ($billion)
Figure 108 Lamperd Less Lethal, Inc.: Profit Analysis, 2010 – 2012 ($billion)
Figure 109 Metal Storm Ltd: Revenue Analysis, 2008 – 2011 ($billion)
Figure 110 Metal Storm Ltd: Operating Earnings Analysis, 2008 – 2011 ($billion)
Figure 111 Metal Storm Ltd: Profit Analysis, 2008 – 2011 ($billion)
Figure 112 Moog, Inc.: Revenue Analysis, 2009 – 2012 ($billion)
Figure 113 Moog, Inc.: Earnings Per Share Analysis, 2009 – 2012 ($billion)
Figure 114 Moog, Inc.: Profit Analysis, 2009 – 2012 ($billion)
Figure 115 Qinetiq Group Plc: Revenue Analysis, 2010 – 2013 ($billion)
Figure 116 Qinetiq Group Plc: Operating Earning Analysis, 2010 – 2013 ($billion)
Figure 117 Qinetiq Group Plc: Profit Analysis, 2010 – 2013 ($billion)
Figure 118 Raytheon Company: Revenue Analysis, 2008 – 2012 ($billion)
Figure 119 Raytheon Company: Operating Expense Analysis, 2008 – 2012 ($billion)
Figure 120 Raytheon Company: Profit Analysis, 2008 – 2012 ($billion)
Figure 121 Taser International, Inc.: Revenue Analysis, 2009 – 2012 ($billion)
Figure 122 Taser International, Inc.: Operating Expenses Analysis, 2009 – 2012 ($billion)
Figure 123 Taser International, Inc.: Profit Analysis, 2009 – 2012 ($billion)
Figure 124 Textron Systems: Revenue Analysis, 2009 – 2012 ($billion)
Figure 125 Textron Systems: Operating Expenses Analysis, 2009 – 2012 ($billion)
Figure 126 Textron Systems: Profit Analysis, 2009 – 2012 ($billion)