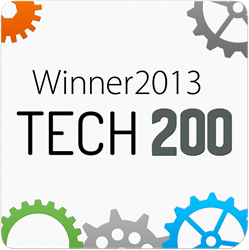 We continue to stay competitive by providing our customers with the very latest in seamlessly integrated cloud-based solutions, and the best customer service. - Jeff Lacy, CEO
Elkhart, IN (PRWEB) September 19, 2013
For three years in a row Electronic Commerce, Inc. (ECI) has been named to the Lead411 Tech 200 list of fastest growing tech companies in the United States.
ECI ranked 72nd for continued growth and development in the highly-competitive Software-as-a-Service (SaaS) field. Specializing in HRIS solutions, ECI's human capital management platform, Empower Enterprise, provides mid-sized companies with a fully integrated toolbox of services, all delivered "in the cloud."
Information services company, Lead411, looked at businesses that are U.S.-based, privately held and earned more than $1 million in revenues in 2012. Those with the highest percentage revenue growth from 2010 to 2012 are ranked, and the top 200 companies are honored. This year the average revenue growth was 250%, which is 13% higher than last year and 17% higher than 2011.
Lead411 received applicants from across the U.S. in various industries including software, hardware, media, advertising, and wireless.
"Since our inception in 1996, ECI has prided itself on innovation as the driver of our growth," said Jeff Lacy, ECI's CEO. "We continue to stay competitive by providing our customers with the very latest in seamlessly integrated cloud-based solutions, and the best customer service. We are proud to be among the top tier of high tech companies in the nation."
About ECI
ECI provides web-based Human Capital Management solutions, including Onboarding, Payroll Processing, Talent Management and Human Resource Information Systems, under a SSAE 16 Type II audited SaaS environment. ECI services clients throughout the United States. Their clients range from 100 to 10,000 employees in virtually every industry both publicly and privately held. While ECI has been recognized with several awards for outstanding business achievements including the 2006 Inc. 500, and 2007, 2008, 2009 & 2010 Inc. 5000, the company is most proud of a 98% Client Retention ratio, which is a reflection of ECI's commitment to excellence in service, technology and value. Visit ecipay.com to learn more.
About Lead411
Information services provider Lead411 was founded in 2001 and has grown 40% yearly since inception without accepting venture capital financing. The company is based in California, but has satellite offices in New York. In addition to current subscriptions, Lead411 also offers corporate information, company news and awards for up-and-coming businesses.
For additional information, please contact:
Leanne Phillips
Communications Manager
Electronic Commerce, Inc.
2810 Dexter Drive
Elkhart, IN 46514
574-970-4400
lphillips(at)ecipay(dot)com