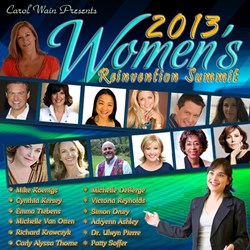 The downturn in the economy had a significant effect on the way many of us work and live. It also caused a lot of us to re-evaluate our lives, the things we tolerate and what we really want.
Courtenay, BC (PRWEB) September 20, 2013
Never before have so many of the most successful entrepreneurs, business-building specialists, executive coaches and life coaches come together in one place for a free training. Friday, September 20 through Sunday September 22, Queen of Reinvention Carol Wain hosts "The Women's Reinvention Summit," a live training featuring big names including Mike Koenigs, Cynthia Kersey, Dr. Ulwyn Pierre and Dr. Lorraine Clemes. The goal: to help women to reinvent their lives -- professionally, personally and spiritually.
"The great news is that all master teachers have each reinvented their lives and they have helped many people -- both men and women -- to reinvent their lives and their businesses," Wain said. "Who better to study and learn from than proven success stories?"
Speakers include:

Mike Koenigs, 2009 Marketer of the Year, best-selling author, filmmaker, speaker and entrepreneur
Cynthia Kersey, best-selling author, entrepreneur, speaker, national columnist and contributing editor to Success Magazine
Emma Tiebens, speaker, Amazon best-selling author, online authority positioning expert and business branding consultant
Michelle Van Otten, business & life success coach and transformation mentor who specializes in transforming body, mind, life and business to live and lead the life you're meant to
Richard Krawczyk, best-selling author, human potential expert, motivational keynote speaker and business strategist
Carly Alyssa Thorne coach, author and speaker who is passionate about conscious business transformations of the mind, body, business & spirit, as it is all interconnected
Michelle DeBerge, best-selling author and motivational speaker, specializing in life redesign
Victoria Reynolds, best-selling author, inspirational speaker, intuitive mentor and documentary filmmaker
Simon Drury, business psychologist and corporate mentor, coach and trainer
Adryenn Ashley, award winning filmmaker, actress and founder of Wow! Is Me
Dr. Ulwyn Pierre, international transformational leadership results specialist, and Principal and CEO of Pierre & Associates, Inc., an executive coaching and management consulting company
Patty Soffer, renowned marketer, brand strategist and partnership coach who has learned the hard way the importance of building a Human Foundation for everything one does
Dr. Karen Jacobson, speaker, mentor, family chiropractor and creator of Unlock Your Ultimate Potential who focuses on the mind-body connection and its effects on health and human potential
Dion Johnson, multi-award winning coach, mentor and author who helps mid-life professional women break out of their career rut
Dr. Lorraine Clemes, career consultant, coach, speaker, author, workshop facilitator, and the founder of Life Design Consultants
Gina Eubank, integrative health coach, pharmacist and health specialist for Great Day Houston who healed herself of a brain tumor and now uses her knowledge to help others heal using integrative natural modalities
"The downturn in the economy had a significant effect on the way many of us work and live," Wain said. "It also caused a lot of us to re-evaluate our lives, the things we tolerate and what we really want. I created the Women's Reinvention Summit to help those who are tired of settling and are looking for inspiration and advice on how to reinvent."
Women who are interested in learning more from these experts about how to reinvent their businesses, their careers, their health and their relationships can get the details about Wain's free, live virtual training, "The Women's Reinvention Summit," at http://WomensReinventionSummit.com.
Carol Wain, President of World Incentive Network (WIN) and "2003 Entrepreneur of the Year", is the Queen of Reinvention. Having 'been there done that' as an entrepreneur Carol speaks from a wealth of experience. She knows what it's like to experience failure in business as well as experience wonderful acknowledgement amongst her peers in a competitive marketplace. She has successfully reinvented herself many times and she has reinvented, rebranded, repositioned and re-launched her own businesses on multiple occasions since 1996.
Carol is a reinvention coach, consultant, trainer and globally renowned performance improvement and marketing specialist. Carol is also a well sought after keynote speaker and best-selling author. She lives in Courtenay, British Columbia and she is writing her 3rd book "Finally Finding Freedom - a Woman's Guide to Reinvention".