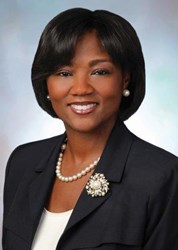 WASHINGTON, D.C. (PRWEB) September 19, 2013
Johnine P. Barnes, chair of the Labor and Employment Practice's Statutory Compliance and Contracts and Regulatory Practice Group of the international law firm Greenberg Traurig LLP, has been appointed General Counsel of the National Bar Association ("National Bar"). Ms. Barnes is based in the firm's Washington, D.C. office. Established in 1925, the National Bar is the oldest and largest association of African American attorneys and judges in the United States.
Ms. Barnes is an active member of the legal community in Washington, D.C. as well as nationwide. In 2012, she was named "Outstanding Outside Counsel of the Year" by the National Bar Association Commercial Law Section. She is listed in Super Lawyers magazine, Washington, D.C. Super Lawyers (2012-2013) and in The Legal 500 United States (2013).
"Greenberg Traurig is a longtime supporter of the National Bar," said Ms. Barnes. "It's an honor to have the opportunity to serve as General Counsel to such a prestigious association."
Ms. Barnes' practice includes litigating and defending administrative claims of harassment, retaliation and discrimination on the basis of age, race, sex and disability; wrongful discharge and breach of contract issues; and client compliance with federal and state statutes governing employment, including compliance with federal contracting regulations and the applicable statutory provisions. She also has counseled and represented companies, government agencies and associations on labor law issues, including the Fair Labor Standards Act, as well as analogous state statutes, collective bargaining, grievance arbitration and National Labor Relations Board proceedings.
About Greenberg Traurig, LLP
Greenberg Traurig, LLP is an international, multi-practice law firm with approximately 1750 attorneys serving clients from 36 offices in the United States, Latin America, Europe, the Middle East and Asia. Greenberg Traurig is among the Top 10 law firms on The National Law Journal's2013 NLJ 350, an annual ranking of the largest firms in the U.S. For additional information, please visit http://www.gtlaw.com.