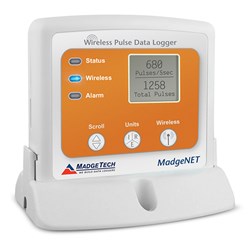 Warner, NH (PRWEB) September 20, 2013
MadgeTech Inc., a global leader in innovative data logging solutions, is excited to announce the multi-purpose RFPulse2000A wireless pulse data logger. Designed for monitoring wind, energy and flow rate, this data logger records pulse output signals from various switches and sensor types such as flow meters and anemometers.
The RFPulse2000A is unique in that it not only calculates pulse count, but it also calculates pulse rate. As with all of MadgeTech's 2000A series of data loggers, the RFPulse2000A is equipped with an LCD screen, providing instant access to current readings, minimum, maximum and average statistics. Using the MadgeTech data logging software, the device can be programmed to convert the pulse output into a different unit of measure, such as gallons per minute or miles per hour. Engineering units can also be programmed into the device as a rate, which allows the device to calculate the measurement unit in rates per second, minute, hour or per day. This ability allows for more useful statistics for the user when data logging over extended periods of time.
With the RFPulse2000A's alarm capabilities, thresholds and limits can be preset by the user. Notifications can be signaled by an audible buzzer and an LED light alarm for those in the immediate area. Alarms can also be configured to send notifications via email, text message or on screen alert as desired.
The RFPulse2000A is able to start, stop and download information wirelessly. This device is great as a standalone data logger, but when used with an RFC1000 wireless transceiver, the RFPulse2000A can wirelessly transmit real-time data back to a central PC. The data logger transmits up to 500' unobstructed to the RFC1000 transceiver. Multiple RFC1000s can be used as repeaters to extend the range up to 1000' unobstructed between repeaters. This allows the data to be sent back to the PC over a much greater distance.
This wireless data logger can be utilized as a single unit or it can be scaled into a larger system that incorporates hundreds of loggers (additional MadgeTech wireless data loggers and transceivers may be required). The RFPulse2000A works with the new MadgeTech 4 software, available to download free from http://www.madgetech.com. MadgeTech 4 is an all-in-one data handling system for storing files, creating formal reports and performing in-depth analysis. Downloading data from the loggers is automatically saved to the internal file data base, ensuring original records are always maintained. Customizable graphical, tabular and statistic reports can be created and presented to clients, auditors or kept as a physical archive. The software features the ability to Excel®, data annotation, digital calibration and more. The RFPulse2000A is priced at $229.00 USD, discounts are available for larger quantities. For more information please visit http://www.madgetech.com or call (603) 456-2011.
For More Information Contact:
MadgeTech, Inc.
6 Warner Road,
Warner, NH 03278 USA
Phone (603) 456-2011
Fax (603) 456-2012
email: info(at)madgetech(dot)com