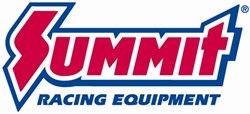 Tallamdge, OH (PRWEB) September 20, 2013
Summit Racing offers Jeep owners two ways to protect their vehicles from the ravages of both the trail and the shopping mall parking lot.
XHD FRONT BUMPER SYSTEMS
The XHD is no mere bumper—it's a modular design that allows Jeep owners to build the exact bumper they need. Available in winch-mount or off-road light versions, the narrow bumpers provide plenty of clearance for large front tires. The black powdercoated steel bumpers mount to the vehicle frame and have two heavy-duty D-ring brackets, cutouts for factory fog lights, and side filler plates for a finished look.
Then, finish your XHD Bumper with various accessories including a tubular, pre-runner style stinger, grille guard hoop, standard or tubular bumper ends, or cool storage-style bumper ends with a sealed storage area that's perfect for holding winch or other trail tools. The steel bumpers are available for 1978-2012 Jeep CJ and Wrangler.
Other products in the Rugged Ridge XHD line include stire carrier mounts, universal winch mounts, light kits--even soft tops and snorkel kits.
FRONT TUBE BUMPERS
These fully-welded Rugged Ridge bumpers have steel caps—not plastic—an integral grille guard hoop, and two tabs to easily mount off-road lighting. Need to mount a winch? Most bumpers have a winch cutout to clear a roller fairlead. Your choice of black, black textured, or titanium powdercoat finish, or polished stainless steel. The bumpers are available for 1959-2012 Jeep CJ and Wrangler.
Summit Racing Equipment
http://www.SummitRacing.com
1-800-230-3030