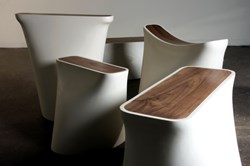 Santa Fe, NM (PRWEB) September 26, 2013
David Richard Gallery will present a curated exhibition featuring unique and edition functional artwork created using digital technology and traditional methods to solve design issues in both visually aesthetic and innovative ways. The exhibition, "Life Support: Art — Design Sustenance", will be presented October 25 – November 30, 2013 with a panel discussion on Saturday, October 26, 2:00-4:00 PM featuring participating designers and artists: Derek Porter (Lighting Design), Ted Larsen (Visual Artist), Thomas Lehn (Furniture Design), Max Almy & Teri Yarbrow (Digital Mapping) and an opening reception on Friday, November 1, 5:00—7:00 PM at the gallery located on 544 South Guadalupe Street, Santa Fe, New Mexico 87501, phone 505-983-9555 in the Santa Fe Railyard Arts District.
"Life Support: Art — Design Sustenance" merges innovative artistic visions with 21st-century tools for living. These futuristic designs support our daily rituals, facilitate our domestic needs, and sustain our interest and imagination through the artistic values they embody. Included in this show are works from sixteen internationally acclaimed artists, craftsmen, designers, and architects whose media include wood, cardboard, steel, plastic, vinyl, lace and electric wire to create sculptures and objects that function as furniture, lighting, wall treatments, rugs, partitions and other forms of innovative application. Informal discussions will be held with the general public while the exhibition is on view, including an informal talk on Saturday, November 16, at 3pm with Ellen Berkovitch of AdobeAirstream and several of the artists and designers at David Richard Gallery.
Artwork and design objects on exhibition will include the following participants: B + U (Herwig Baumgartner and Scott Uriu), Jack Craig, Nancy Dwyer, Allen Graham, Scott Klinker, Stephen Knapp, Ted Larsen, Thomas Lehn, MachineHistories, (Steve Joyner and Jason Pilarski), Michael McCoy, Derek Porter, Rael San Fratello (Ron Rael and Virginia San Fratello), Piper Shepard, Peter Stathis, Peter Tolkin and Nancy VanDevender. The opening is a free event.
David Richard Gallery specializes in post-war abstract art including Abstract Expressionism, Color Field, geometric and hard-edge painting, Op Art, Pop Art, Minimalism, Feminism and conceptualism in a variety of media. Featuring both historic and contemporary artwork, the gallery represents many established artists who were part of important art historical movements and tendencies that occurred during the 1950s through the 1980s on both the east and west coasts. The gallery also represents artist estates, emerging artists and offers secondary market works.