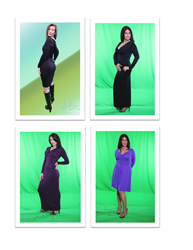 Orlando, FL (PRWEB) September 20, 2013
Endorsed as the next evolution in women's fashion, U ARe! Fashions is taking beauty, style and comfort to the next level. U ARe! Fashions wants to expand its line to be available in boutiques and large retail establishments nationwide.
U ARe! Fashions designs offer everything today's woman is seeking in style. Dress styles are unique, trendy and chic, as well as classy, sexy and comfortable. Founder/Designer, Anissa Rogers, delivers a smart combination of beauty and versatility. Styles can be dressed up for work or evenings out or down for a more casual look. The material selection completes the fabulous fashion package. All garments are manufactured with a quality knit blend fabric that feels so soft on the skin and moves with the contour of the body. The weight of the material is multi-climate friendly and can be worn comfortably in both cool or warm seasons. U ARe! Fashions dresses are a must have staple in every woman's closet. Whether a size 2 or size 20, there is a dress style that will flatter!
U ARe! Fashions was established with the spirit of celebration at heart. The philosophy: Celebrate beauty, Celebrate spirituality, Celebrate womanhood, Celebrate Who U ARe! Women play key roles in shaping the lives of others but often neglect themselves. The aspiration of the line is to inspire women to discover and celebrate who they are.
The U ARe! Fashions line is currently available for online retail purchasing at http://www.uarefashions.com. Buyers interested in wholesale purchasing can view the 2013 Lookbook online at http://www.uarefashions.com and reach Anissa Rogers for additional information.
U ARe! Fashions (bilingual) Commercial
Contact:
Anissa Rogers
Email: Uarefashions(at)outlook(dot)com
Phone: (407) 580-0883
Website: http://www.uarefashions.com