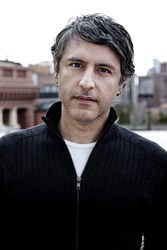 To be clear, I am a scholar of religions with four degrees, including one in the New Testament, and fluency in biblical Greek, who has been studying the origins of Christianity for more than two decades, who just happens to be Muslim.
San Francisco, CA (PRWEB) September 21, 2013
CIIS Public Programs & Performances presents the thought-provoking scholar Reza Aslan on Wednesday, October 2 at 7:00PM at the First Congregational Church in Berkeley, California. Aslan will speak on his controversial biography, Zealot: The Life and Times of Jesus of Nazareth. The book reached #1 on the amazon.com bestseller list after a flap between Aslan and a Fox News interviewer. To purchase tickets, visit http://www.ciis.edu/publicprograms or call 415.575.6175.
Balancing the Jesus of the Gospels against the historical sources, Aslan explores this diverse and turbulent age and, in doing so, challenges the conventional portraits of Jesus of Nazareth. Aslan describes a man full of conviction and passion, yet rife with contradiction: a man of peace who exhorted his followers to arm themselves with swords; an exorcist and faith healer who urged his disciples to keep his identity a secret; and ultimately, the seditious "King of the Jews" whose promise of liberation from Rome went unfulfilled in his brief lifetime. Aslan explores the reasons why the early Christian church preferred to promulgate an image of Jesus as a peaceful spiritual teacher rather than a politically conscious revolutionary. And he grapples with the riddle of how Jesus understood himself, the mystery that is at the heart of all subsequent claims about his divinity.
"As a university, we feel that our role is to present a variety of viewpoints, even on widely held beliefs," says Karim Baer, director of CIIS Public Programs & Performances. "We appreciate the scholarship that Reza Aslan has brought to this book."
About CIIS
California Institute of Integral Studies (CIIS) is an internationally recognized leader in integral education. CIIS has an enrollment of 1,400 students pursuing degrees in a variety of academic programs in its schools of Consciousness and Transformation, Professional Psychology & Health, and Undergraduate Studies. In addition, CIIS hosts a vibrant art exhibition program through The Arts at CIIS, as well as offering a dynamic array of events through its Public Programs & Performances division, including workshops, concerts, and conferences. The Institute provides low-cost mental health services to the San Francisco Bay Area through its six award-winning counseling centers. For more information about CIIS, visit http://www.ciis.edu.
# # #