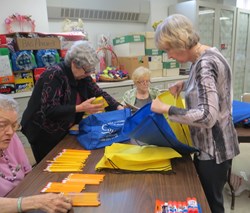 We wanted to communicate the wealth of options available in a structured way while emphasizing individual choice."
Evanston, IL (PRWEB) September 23, 2013
Presbyterian Homes, a not-for-profit, faith-based owner-operator of three continuing care retirement communities on Chicago's North Shore and in the northwest suburbs, is announcing "Choices: A Program for Living Well," a new initiative based on dimensions of wellness as identified by the International Council on Active Aging. The program creates awareness of the multi-dimensional aspects of healthy living and communicates the many choices of activities older adults can select according to their individual interests.
The program offers engagement options in the seven dimensions of wellness that include physical, social, emotional, spiritual, intellectual, community and environmental. The program is inspired by Presbyterian Homes' wellness philosophy supporting the right of individuals living in its communities to achieve their highest level of well-being in mind, body and spirit.
Muriel Brunger, administrator of community life at Lake Forest Place, a Presbyterian Homes community in Lake Forest, IL, and part of a work group that developed the "Choices" program says "We asked residents through focus groups to contribute their thoughts and ideas about wellness. Those insights led us to present a program that creates awareness about an integrated approach to healthy living. We wanted to communicate the wealth of options available in a structured way while emphasizing individual choice." She continued, "Many programs are resident generated, and we welcome and encourage people to share their knowledge and interests."
Among programs recently added include the recordings of residents' life stories to share with their families; a national senior fit test to track personal goals over time and a partnership with a local school to collect and deliver school supplies for low-income children, supporting residents' wishes to continue contributing to the wider community in meaningful ways. Most popular were new and continuing programs for socializing and connecting with peers, a key driver for older adults choosing to live at a continuing care retirement community.
###
ABOUT PRESBYTERIAN HOMES
Founded in 1904, Presbyterian Homes is a not-for-profit, faith-based organization with a national reputation for creating extraordinary retirement communities. Presbyterian Homes serves older adults through its residential and healthcare programs on campuses in Evanston, Lake Forest and Arlington Heights, Illinois. The organization is accredited by the CARF/CCAC, the nation's only accrediting body for retirement communities. To find out more about Presbyterian Homes, go to http://www.presbyterianhomes.org