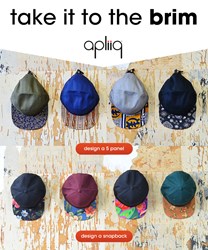 Apliiq is helping people be their own brand. - ELO, NYC based street artist
Los Angeles, CA (PRWEB) September 23, 2013
Nestled in the Arts District of Downtown Los Angeles there's a bustling workshop churning out customized apparel with hundreds of unique fabrics sourced from all over the globe. The just-in-time manufacturing facility is the physical manifestation of Apliiq, an online platform for designing your own everyday apparel with rare, deadstock and classic fabric appliques.
Apliiq.com has sold custom hoodies, tees, dresses, jackets and bags since 2008 and the company has just expanded its offering to include custom 5 panel camper and traditional snapback caps. Ethan Lipsitz, Apliiq CEO believes that "today's shopper craves a personal connection to what they wear and by customizing it and having it hand made for them, they're building a new meaning into their clothing."
"We see made-to-order custom production as disruptive to the traditional fashion model. There's a growing number of companies doing this with printing but few are incorporating cut-and sew production like Apliiq. Using fabric as the medium for creative expression, we move away from the over branded, screen printed logo world of casualwear and into the interpretive history and art of our unique textiles."
Evan Lorberbaum, an NYC based street artist that goes by the moniker ELO, recently submitted three fabrics featuring his artwork which can be used to anoint the brim of a hat. He summarizes; "Apliiq is helping people be their own brand."
Apliiq toyed with customizable hat production in the past, offering custom snapbacks made by an outside manufacturer for a few months in 2012. "The manufacturer was taking months to produce our customers designs. We couldn't keep asking customers to wait so we decided to hold off until we could make the hats in house" says Lipsitz. Today, the company is making snapbacks in the workshop and turning them around in under a week, faster than many e commerce companies take to fill their boxes. "We're excited to provide our customers a quality and speed that only our made-to-order system can offer."
You can design your own snapback hat or design your own 5 panel hat online at http://www.apliiq.com.
About Apliiq
In a sea of mass produced trends, Apliiq is the platform for creative expression. We make clothing personal again with fabrics that tell your story.
Founded in 2008, Apliiq collects rare, deadstock and recognizable textiles, and applies them to everyday products. Each item is handmade to order at the downtown Los Angeles Workshop.
Press Inquiries:
Ian Gruber
Ian(at)apliiq(dot)com