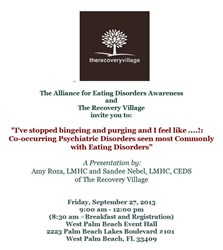 The presenters will discuss the challenges associated with treating individuals with co-occurring psychiatric disorders.
Umatilla, Fla. (PRWEB) September 24, 2013
The Recovery Village is pleased to announce its upcoming presentation on eating disorders. The event will be held in connection with the Alliance for Eating Disorders Awareness (The Alliance), and will be held Friday, September 27, 2013, from 9:00 am to 12:00 pm. The Recovery Village invites all psychologists, counselors, doctors, nurses, and others in the treatment industry to this event, which will be held at the West Palm Beach Event Hall in West Palm Beach, Florida.
The presentation is entitled "I've stopped bingeing and purging and I feel like ....!: Co-occurring Psychiatric Disorders seen most Commonly with Eating Disorders", and will be delivered by Amy Roza and Sandee Nebel of the Recovery Village. The presenters will discuss the challenges associated with treating individuals with co-occurring psychiatric disorders. The most common psychiatric disorders that occur with eating disorders will be covered, as well as the best clinical practices for treating these disorders. To register for the event, visit the registration website.
Amy Roza, LMHS, is a licensed mental health counselor who specializes in the areas of trauma, abuse, addiction, and eating disorders. As the Recovery Village's Director of Clinical Services, Amy implements treatment models and oversees staff while focusing on the needs of her patients. For the last 10 years, she has walked with individuals on their journey to wholeness in both professional and volunteer/community settings. She regularly speaks at retreats and groups on topics ranging from addiction to abuse to personal growth.
Sandee Nebel, LMHC, CEDS, has devoted her career to helping others heal the underlying psychological issues associated with eating disorders and food addiction. She is the founder of White Picket Fence Counseling Center and Foundation, and is in private practice. She serves as an adjunct psychology professor at Valencia College and practicum supervisor at Nova Southeastern University Master's in Mental Health Counseling program. She is a frequent guest speaker at local schools, professional trainings, and community workshops.
This event is being held and sponsored by the Recovery Village and the Alliance. The Recovery Village is a Florida rehab facility that specializes in treating different types of eating disorders, substance abuse disorders, mental health disorders, and co-occurring psychiatric disorders. Through individualized treatment programs, certified staff at the Recovery Village help individuals overcome behavioral and mental health disorders and get back to their lives.
The Alliance for Eating Disorders Awareness is a nonprofit organization that is "dedicated to providing programs and activities aimed at outreach and education related to health promotion, including all eating disorders, positive body image, and self-esteem", according to its website. For the past 13 years, the Alliance has worked to prevent eating disorders through education and awareness, and by promoting positive body image. Through advocacy, help lines, referrals, support, and mentoring, the Alliance helps those struggling with eating disorders and low self-esteem. Learn more about the Alliance at http://www.allianceforeatingdisorders.com/.