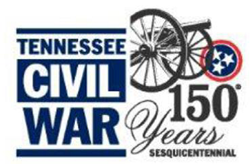 The tours are on a variety of topics related to Battles for Chattanooga and Battles of Chickamauga
Chattanooga, TN (PRWEB) September 24, 2013
Friends of Chickamauga & Chattanooga National Military Park will offer tours during the Tennessee Civil War Sesquicentennial Signature Event in Chattanooga Oct. 9-12. All tours are at various times Saturday, Oct. 12 and will depart from and return to the Chattanooga Conventions Center downtown. The tours are on a variety of topics related to Battles for Chattanooga and Battles of Chickamauga.
Tour 1 – 11 a.m. - 4:30 p.m. - Siege & Battles for Chattanooga Bus Tour with Jim Ogden - cost $30, lunch included
Join Chickamauga and Chattanooga National Military Park Historian Jim Ogden for a tour highlighting the Sept. 22 to Nov. 25, 1863 Siege and Battles for Chattanooga. Stops include: Point Park on the Lookout Mountain with discussions of the Battle of Lookout Mountain, known as the "Battle Above the Clouds; Orchard Knob and Missionary Ridge. (Difficulty of the walking portion of the tour--Moderate; 100 foot elevation change at Point Park via stairs and sloped path; steep path at Orchard Knob.)
Tour 2 – 11a.m. - 4:30 p.m. - Battle of Chickamauga with Dr. William Glenn Robertson - cost $30, lunch included
Symposium participants are encouraged to join Dr. Glenn Robertson as he leads an in-depth bus tour of Chickamauga Battlefield. (The majority of this tour will be on-site and will include moderate walks.)
Tour 3 – 11 a.m. - 2 p.m. - Orchard Knob and Missionary Ridge - cost $20, lunch included
Join Chickamauga and Chattanooga N.M.P. Park Ranger Anton Heinlein for a bus tour of the Orchard Knob and Missionary Ridge Battlefields.
Tour 4 – 3p.m. - 4:30 p.m. - Chattanooga National and Confederate Cemeteries - cost $20
Join historians discussing the importance of commemoration and memorialization following the Civil War for a tour of Chattanooga's National Cemetery and Confederate Cemetery.
For a full description of tours or for tickets, visit http://www.friendsofchch.org or call 423-648-5623.
For more information on Tennessee's Civil War Sesquicentennial, visit http://www.tncivlwar150.com or download a complimentary, Tennessee Civil War 150 iPhone app, available at itunes.com.
The Tennessee Sesquicentennial Commission sponsors a series of major signature events. Presenters will discuss the battles, events, and stories of the Civil War, as well as offer brief dramas and musical entertainment during the free event, Oct. 9-12, 2013 in Chattanooga, Tenn. and Nov. 13-14, 2014 in Franklin, Tenn.