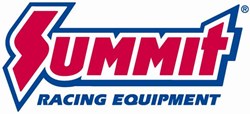 Tallmadge, OH (PRWEB) September 24, 2013
Enthusiasts can now check out the latest performance parts from Demon Carburetion, Intellitronix, and Right Stuff Detailing at Summit Racing Equipment.
DEMON CARBURETION MIGHTY DEMON BLOWER CARBURETORS
Designed for blow-through centrfugal supercharger and turbo systems using a carb hat, the Mighty Demon Blower Carburetors are calibrated to increase the vacuum signal and increase fuel delivery under boost. Other features include solid nitrophyl floats that won't collapse under boost and sealed throttle shafts to prevent boost pressure from escaping.
INTELLTRONIX DIGITAL GAUGES
Accurate and easy to read gauges, tachs, and speedometers that are at home in most anything with wheels and an engine. Made in the USA, Intellitronix LED Digital Gauges are microprocessor-controlled, so you get accurate information on engine functions. Super-bright LEDs make the gauges easy to read in most any kind of light.
RIGHT STUFF DETAILING CONTROL ARMS FOR GM AND MOPAR
These fully welded and gusseted control arms are lighter than the stamped steel OEM arms, and will drop the front of the car approximately two inches. What's more, the upper arms provide four degrees of positive caster. That improves straight-line tracking and stability during high-speed cornering and braking.
Summit Racing Equipment
SummitRacing.com
1-800-230-3030