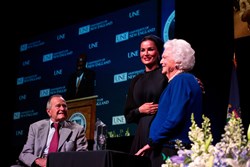 Her Highness Sheikha Moza's belief in the character and potential of her nation's people is an inspiration to us all and a true example of service as a point of light." -- Barbara Bush
BIDDEFORD, Maine (PRWEB) September 20, 2013
On September 19, 2013, Her Highness Sheikha Moza bint Nasser of Qatar was presented the George Bush Award for Excellence in Public Service by the George Bush Presidential Library Foundation.
The award was presented at the 4th George and Barbara Bush Distinguished Lecture at the University of New England (UNE).
George Bush, 41st President of the United States, and Barbara Bush presented the award to Sheikha Moza at the event, which was held at the Harold Alfond Forum on UNE's Biddeford Campus. The lecture was streamed live to audiences around the world.
A driving force behind education and social reforms in Qatar for more than 15 years, Sheikha Moza is the Chairperson of the Qatar Foundation for Education, Science and Community Development (QF), a private nonprofit organization founded in 1995.
She is a tireless advocate for access to quality education. QF's flagship project is Education City, a community of international universities and research institutions housed on a 1,000-hectare campus in Doha, Qatar. Sheikha Moza also actively spearheads projects promoting education, peace and human development throughout the world.
In her welcome remarks, UNE President Danielle Ripich said: "Her Highness has invested an enormous amount of her energy in uplifting the fate of her nation and the Arab world. Her influence is strongly felt across a wide variety of fields, including healthcare and education, which are our vocations at the University of New England. Our university could not have a better guest to inspire us as we start a new academic year. Thank you, President and Mrs. Bush, for introducing us to Sheikha Moza."
Sheikha Moza bint Nasser, who spoke before the presentation of the award, said: "We must not be complacent ... we must share our blessings with others and for future generations. For me, this is the essence of public service."
She discussed her Educate a Child initiative, which aims to bring quality primary education to disadvantaged children throughout the world. "The seeds of prosperous minds begin with education," she said. "Educate a Child is working to reach the world's hardest-to-reach children … to break the vicious cycle of poverty." Just two days prior to accepting this award in Maine, Sheikha Moza bint Nasser was 3,000 miles away, visiting indigenous children of the Amazon.
She added, "Sustainable solutions need to be creative and innovative. The greatest obstacle to progress would be to do nothing. Education is the key."
In presenting the award, Mrs. Bush told the gathering that: "Her Highness Sheikha Moza's belief in the character and potential of her nation's people is an inspiration to us all and a true example of service as a point of light."
The George Bush Foundation, based in College Station, Texas, presents the George Bush Award in recognition of an individual's dedication to public service. The award underscores President Bush's lifelong commitment to public service.
Past recipients include former President of the United States Ronald Reagan, former Secretary of Defense Robert M. Gates, evangelist William "Billy" F. Graham, former Governor of California Arnold Schwarzenegger, former United States Senator Edward M. Kennedy, former General Secretary of the Communist Party of the Soviet Union Mikhail Gorbachev and former Chancellor of Germany Helmut Kohl.
The George and Barbara Bush Distinguished Lecture Series at UNE is an annual event honoring the legacy of President and Mrs. Bush as political and community leaders. Since its inception in 2010, UNE has hosted Lieutenant General Brent Scowcroft, former White House Chief of Staff Andrew Card and Jenna Bush Hager at this notable event.
About University of New England
UNE is an innovative health sciences university grounded in the liberal arts, with two distinctive coastal Maine campuses and a campus in Tangier, Morocco, opening in 2014. UNE has internationally recognized scholars in the sciences, health, medicine and humanities; offers more than 40 undergraduate, graduate and professional degree programs; and is home to Maine's only medical and dental schools. It is one of a handful of private universities with a comprehensive health education mission including medicine, pharmacy, dental medicine, nursing and an array of allied health professions. UNE's interprofessional education initiatives prepare future healthcare professionals to practice comprehensive and collaborative team-based care. Both graduate and undergraduate students engage in research and scholarship alongside dedicated faculty who are committed to their academic and professional success. Visit http://www.une.edu.
About the George Bush Presidential Library Foundation
The George Bush Presidential Library Foundation was established in 1991 as a nonprofit educational foundation to design, build and support the George Bush Presidential Library and Museum at Texas A&M University. In addition to sponsoring its own programs and activities, the George Bush Foundation provides logistical and financial support to the George Bush Presidential Library and Museum, as well as to The Bush School of Government and Public Service at Texas A&M University. Through its outreach, the George Bush Foundation is helping make the George Bush Presidential Library Center a leading institution in cultural, policy and academic discussions. Visit http://www.georgebushfoundation.org/