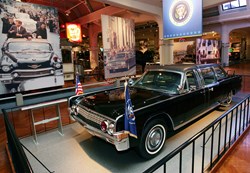 Dearborn, Mich. (PRWEB) September 23, 2013
On November 22, 1963, the nation mourned as the life of one of its most beloved presidents, John F. Kennedy, was cut short. Fifty years later, that day remains a turning point in American history. As the home of the limousine President Kennedy was riding in on that fateful day, The Henry Ford will be marking this significant date with special programming, including lectures from newscaster Dan Rather and former Secret Service agent Clint Hill, Nov. 18-22, 2013 inside Henry Ford Museum.
On November 18 at 7 p.m., newscaster Dan Rather will be joined by author James Swanson and author and historian Douglas Brinkley to offer perspective on how this day forever changed our nation's history. On the following night, November 19 at 7 p.m., Clint Hill, former Secret Service agent assigned to first lady Jackie Kennedy during John F. Kennedy's presidency, will share his firsthand account of that day next to Kennedy's presidential limo with his co-author of Mrs. Kennedy and Me, Lisa McCubbin. Hill is the agent seen in the Zapruder film frantically climbing onto the back of the president's limo as he tried to protect the Kennedys when the shots rang out on the streets of Dallas.
Tickets for the November 19 lecture with Mr. Hill and Ms. McCubbin are sold out. A limited number of general admission tickets remain for the November 18 lecture with Mr. Rather, Brinkley and Swanson.
General admission is $50 per person for each night and includes one drink ticket. Members interested in attending will receive a discounted price.
Guests looking to pay tribute throughout the week will receive a special program highlighting the Kennedy limousine – its restoration, conservation and importance in The Henry Ford's collection, along with feature stories and reflections from historians, curators and authors. In honor of the anniversary, the limousine will be moved to the first row spot of the presidential vehicles inside the museum for guests to remember where they were that day or recall stories from parents and grandparents.
In addition to the evening lectures, Henry Ford Museum will waive guest admission on Friday, November 22, courtesy of Target. For more information or to purchase tickets for the special JFK Remembered programming visit http://www.thehenryford.org/jfkremembered or call 313-982-6001.
About The Henry Ford:
The Henry Ford in Dearborn, Michigan is an internationally-recognized cultural destination that brings the past forward by immersing visitors in the stories of ingenuity, resourcefulness and innovation that helped shape America. A national historic landmark with an unparalleled collection of artifacts from 300 years of American history, The Henry Ford is a force for sparking curiosity and inspiring tomorrow's innovators. Nearly two million visitors annually experience its five attractions: Henry Ford Museum, Greenfield Village, The Ford Rouge Factory Tour, The Benson Ford Research Center and The Henry Ford IMAX Theatre. A continually expanding array of content available online provides anytime, anywhere access. The Henry Ford is also home to Henry Ford Academy, a public charter high school which educates 485 students a year on the institution's campus. For more information please visit our website thehenryford.org.