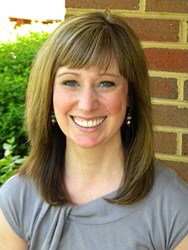 Lynchburg, Va. (PRWEB) September 22, 2013
Liberty University alumna Jennifer Lovett has received the Teacher of the Year Award for Region 5 in Virginia, making her one of eight finalists for the statewide award.
Lovett, a 2002 elementary education graduate who also received her master's degree from Liberty as a program specialist in reading in 2008, is a reading specialist at Linkhorne Elementary School. She earned Lynchburg City Schools' Teacher of the Year award in May, which made her eligible for the regional honor. She was chosen out of 20 school divisions as the Region 5 winner.
The Virginia Teacher of the Year award will be announced next month and the winner will become eligible for the national Teacher of the Year Award.
Lovett is the first Liberty graduate to receive the regional honor and the third alumnus to receive the Teacher of the Year Award from Lynchburg City Schools.
"I know that it is the Lord who enables and equips me to do this precious work, and I pray that, through this special recognition, I can continue to share the light and love of Christ and that He will be honored," Lovett said after she earned the local honor in May.
The award has also brought great pride to the faculty of Liberty's School of Education.
"I remember often hearing (Liberty founder) Dr. Jerry Falwell, Sr. say, 'If it's Christian, it ought to be better,'" says Beth Ackerman, associate dean in the School of Education. "Our Liberty University graduates continue to grow his vision into fruition by demonstrating excellence in their fields."
Michelle Goodwin, associate dean for licensure programs and one of Lovett's professors, agreed. "We are so proud of Jennifer's commitment to our noble profession of education. We certainly feel that Jennifer is using her gift of instruction and are delighted that she is being honored for her efforts."
Lovett's success is a testament to what Goodwin believes is the scriptural mandate of a teacher: "Romans 12:6-7 states that God has given each of us the ability to do certain things well … if you are a teacher, do a good job of teaching."
About Liberty University
Liberty University, founded in 1971, is the largest private, nonprofit university in the nation, the largest university in Virginia, and the largest Christian university in the world. More than 100,000 students attend classes on its 7,000-acre residential campus and study in its thriving online education program.