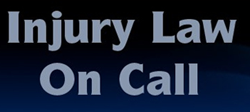 With over two decades of experience in this field, our company has the expertise and commitment that victims of personal injury need
(PRWEB) September 22, 2013
Virginia Beach, VA: Specialist personal injury law firm, Injury Law on Call, is now accepting wrongful death lawsuits from the relations of those who have passed away due to the negligence of a third party. The law firm, which specializes in personal injury cases, is able to represent those who are pursuing legal action over the wrongful death of a loved one.
In addition to taking on wrongful death cases, the law firm continues to take on personal injury cases from those who have suffered and feel they are entitled to compensation. Some of the legal areas the firm is able to help with include car accident injuries, medical malpractice, and workers compensation. Whether looking for a auto accident lawyer or a slip and fall lawyer Norfolk, Virginia Beach, Chesapeake, Portsmouth and Suffolk residents can speak to experts at Injury Law on Call.
The company has been servicing residents in the Virginia Beach area since 1992, and therefore offers a high level of experience to those who are looking for legal advice and assistance. The lawyers at Injury Law on Call work to ensure that those who have suffered injuries get the benefits that they are entitled to as well as working towards a favorable outcome with regards to their case.
A representative from Injury Law on Call said: "With over two decades of experience in this field, our company has the expertise and commitment that victims of personal injury need. We also extend this expertise and experience to those who have lost a loved one as a result of wrongful death, and we are able to use our skills and expertise to provide dedicated assistance to those who are looking for legal help."
Those who require legal assistance in relation to personal injury or the wrongful death of a loved one can find out more by heading to http://injurylawoncall.com/
About Injury Law on Call
Injury Law on Call is a specialist personal injury lawyer based on Virginia. The company has been established since 1992 and provides assistance with personal injury and wrongful death cases.
Contact information
Injury Law On Call
Keith Denslow, Ros Willis
575 Lynnhaven Pkwy Ste 200
Virginia Beach, VA 23462
USA
Phone: 757-282-6800