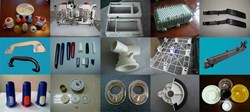 (PRWEB) September 23, 2013
With the fast economic development in the recent years, the demand for high quality custom EIFS (Exterior Insulation and Finish System) fasteners is huge. Recently, Wuxi Glory Plastics, a leader in plastic molding, has released its new collection of high quality EIFS fasteners (http://www.plastics-molding.com/EIFS_PB_Washer.htm). These items are offered with big discounts now.
According to the CEO of the company, EIFS are suitable for retrofit over existing unit walls. According to a senior engineer from Wuxi Glory, EIFS are synthetic stucco exterior cladding systems that are composed of one layer of exterior insulation board with two coats of finish. The exterior building system, if installed properly and if no damage occurs to it, creates a water-tight skin that is essentially leak proof for the life of the structure. Otherwise, when leaks occur, water becomes trapped within leading to severe insect damage, rot, and mold problems. The EIFS mechanical fasteners from Wuxi Glory are specially designed for its clients worldwide.
In addition to EIFS fasteners, Wuxi Glory is also providing a wide range of plastic auto parts and products which are used in various industries like medical container industry, plastic toy industry and beverages market. Wuxi Glory employs' the international quality standard to ensure the premium quality in its products.
Wuxi Glory Plastics was established in the year 1995. It is a China based manufacturer which is an industry leader in the China plastic industry. It is known for its high end services and competitive rates. For more information visit their site address at http://www.plastics-molding.com/