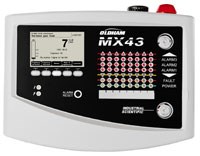 Pittsburgh, PA (PRWEB) September 23, 2013
Oldham is committed to the development of new products to meet ever-evolving customer needs in fixed gas detection instruments. As such, Oldham has improved the storage capacity of its MX 43 controller by adding an USB module. The USB option provides the user the following benefits:

continuous data logging on the USB key at a user defined sampling rate from 2 seconds to 15 minutes,
recording in real-time of all events (alarms, faults, alarm resets, calibration, etc.),
automatic backup of the configuration,
automatic backup of the firmware,
loading a configuration or a firmware file from the USB stick in order to restore or update the system easily.
The 4GB USB drive fitted with the USB kit, provides a recording capacity of more than 2 years (18 months in the worst case for a controller equipped with 32 detectors), a 2 second sampling rate (32 measurements every 2 seconds), and 100 events per day per detector (3200 events per day).
The data are saved in CSV format for smooth processing with Excel.
For more information on this product, please contact your sales representative or visit our website at http://www.oldhamgas.com.
About Oldham S.A.S.
For more than 100 years, Oldham has specialized in safety, gas and fire detection systems. Oldham is headquartered in Arras, France and is a subsidiary of Industrial Scientific Corporation. It employs hundreds of people globally and has operations in France, USA, China and Germany. Oldham's mission is to be the best provider of fixed-point gas detection systems worldwide. It offers a wide range of application-driven products, expert advice, and the highest quality and best customer service in all transactions. For more information, visit http://www.oldhamgas.com.