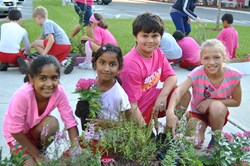 Tampa, FL (PRWEB) September 24, 2013
October is National Breast Cancer Awareness Month and Carrollwood Day School is joining the fight to help defeat this illness. On Friday, October 4, 2013, students from the toddlers to the seniors in high school will be "painting" the CDS campuses pink with flowers, ribbons and other decorations that will beautify the campuses throughout the month of October. An important component of the CDS International Baccalaureate program is Community and Service, and this year CDS has elected to participate in "Paint the Campus Pink", a school-wide service project to raise funds and support the Susan G. Komen for the Cure®.
This is the sixth year CDS has done this special event and has raised over $35,000 for the Susan G. Komen for the Cure®.
All students are working together to decorate the campuses. Class projects include first grade with eighth grade and second grade with seventh grade working on an "All Things Pink" decoration project; fourth grade with sixth grade making petals to create pink flowers throughout the school; third grade planting pink flowers throughout the campuses; and high school will plant pink flowers with the toddlers at our Early Childhood Campus.
In addition to planting flowers and decorating CDS campuses, students will be participating in a "walk on the track" at 2:30, Friday, October 4th, to show unity and commitment towards raising awareness and support of the struggles that come with cancer. Refreshments will be served.