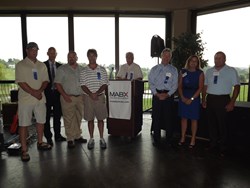 Our Board of Directors consists of construction industry leaders who are committed to the MABX mission. Under the direction of these men and women, we're going to continue to improve and expand our member services and benefits
Harrisburg, Pa. (PRWEB) September 24, 2013
The members of Mid Atlantic BX (MABX) elected the 2013-2014 Board of Directors and Officers during the construction trade association's 2013 Membership Appreciation event on September 12, 2013. Andrew Loser, Vice President of Irvin H. Geiger Associates, Inc. was elected President of the Board.
Loser takes over for Dana Klinepeter, construction project manager for PinnacleHealth, who will now serve on the Board of Directors as the Immediate Past President.
"Our Board of Directors consists of construction industry leaders who are committed to the MABX mission. Under the direction of these men and women, we're going to continue to improve and expand our member services and benefits," Chad C. Harvey, MABX Executive Director, said.
The elected Officers will serve one-year terms, and the Directors will serve two-year terms.
2013-14 MABX Officers
President - Andrew Loser, Vice President, Irvin H Geiger Associates Inc.
President-Elect - Jeffrey Kennedy, Project Manager, Allan A Myers LP
Vice President - Sam Bashore, Executive Vice President, Edwin L Heim Company
Treasurer - David Edmondson, Project Manager SECCO, Inc
2013-14 MABX Directors
*Michael DeSanto, Vice President, G R Sponaugle & Sons Inc
*Steven Diller, Vice President, Lobar Associates Inc
*Jeffery Lynch, Director of Business Development, Wagman Construction Inc.
Stephanie L. Schmidt, President, Poole Anderson Construction
*Michael DeSanto, Steven Diller, and Jeffery Lynch are previous directors who were elected to new two-year terms.
These directors join four others who are entering the second year of their two-year terms:
Babette Freund, CEO, Ritner Steel Inc.
Gene Grassel, Project Construction Sales Manager, Dauphin Electric
Jim Saussaman, Commercial Vice President, H B McClure Co.
Timothy J. Woolford, Partner, Woolford Law PC
The Board of Directors and Officers will oversee the business of MABX for the 2013-2014 fiscal year, which ends August 31, 2014.
Celebrating its 75th anniversary, Mid Atlantic BX is a trade association dedicated to connecting the construction industry. With its products and service offerings, MABX supports the business development efforts of its members and promotes the growth of the construction industry. MABX provides real-time, online access to thousands of regional new construction projects annually, along with project blueprints, specs, addenda, bid lists and other pertinent bidding documents.
From online, industry-specific services to the Construction Buyers Guide, Construx magazine, industry-specific training seminars and networking events, Mid Atlantic BX connects the construction industry from project concept through completion.
For more information about the Mid Atlantic BX, please contact Nate Pigott at (866) 499-2665 or Nate(at)MidAtlanticBX(dot)com. Also, visit our website at http://www.MidAtlanticBX.com.