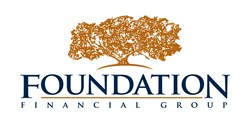 The potential for improving our services is immense with VoIP communications... We're very excited about the possibilities, so stay tuned!
Atlanta, Georgia (PRWEB) September 24, 2013
Foundation Financial Group announced the company's conversion to VoIP, Voice over Internet Protocol, which allows telephone calls to be made over computer networks. Utilizing new technology is part of Foundation Financial's ongoing effort to improve each customer's experience and maximize corporate efficiency.
"We continue to seek out modifications or adjustments that will improve our operations," said Rolf Wilck, chief information officer. "With VoIP, Foundation Financial Group can provide more reliable communication performance and deliver the fastest, most pleasant customer service possible to our clients."
The VoIP conversion project was conducted over a one-year period in conjunction with related network upgrades and migration prerequisites. From Colorado to New York, VoIP securely connects all of FFG's Regional Sales Centers and Retail Branch Offices. Additionally, each office has received network infrastructure upgrades to support VoIP technology and provide centralized management.
"While there were some technical issues we had to resolve along the way, every FFG office has been successfully migrated," continued Wilck. "The entire corporation is now using VoIP. Overall, the feedback we have received has been very positive."
Voice over Internet Protocol is a way to conduct phone calls through either the Internet or an internal network. With VoIP, analog audio signals are turned into digital data that can be transmitted over a data network instead of through a phone company. Most businesses use privately managed networks for VoIP, which gives the company greater control over security and service quality.
Foundation Financial Group has found many of the features available with VoIP technology to be useful for a growing corporation. Phone numbers have increased portability, enabling employees to log out of one phone and into another to maintain the same number. This agility will also help FFG launch new locations quickly. A virtual contact center automatically directs customers to the people who are best suited to answer their questions. Four-digit extensions make placing and transferring calls easier and faster. Voicemails can be converted to email so that important customer concerns do not have to wait until the next business day.
"The potential for improving our services is immense with VoIP communications," said Wilck. "The monitoring tools available through VoIP will be very useful for management in terms of training and talent development. For example, whisper and break-in capabilities allow supervisors to assist on difficult calls and ensure customer satisfaction. By integrating VoIP call statistics into our reports, FFG can continue refining our processes. We're very excited about the possibilities, so stay tuned!"
About Foundation Financial Group
Foundation Financial Group is a multibillion dollar financial services corporation. FFG offers its customers Best in Class service through its Insurance, Retirement, and Mortgage Services. Named one of the fastest growing financial companies in the country by INC magazine for the third year running, FFG has continued to grow its nationwide presence with over 100,000 new customers per year in 39 states. In addition to the value that Foundation Financial provides every customer, it is also dedicated to its communities and the people who live in them. Through a vast array of philanthropic endeavors, the company not only provides significant monetary donations but also fosters a workforce environment that encourages all team members to personally make a difference. Foundation Financial is committed to its strong focus on customer service and community investment as it continues to grow and compete with the largest financial institutions in the world.
Foundation Financial Group reviews all public relations inquiries. For additional information, interview and image requests, contact the Foundation Financial Group Public Relations Team.