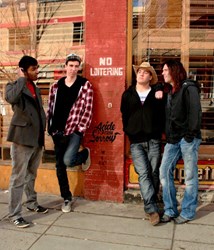 "When these boys joined me for this project they were just 15 years old." Payne reflects, "I thought we'd last a year at most."
Kelowna, BC (PRWEB) September 25, 2013
Band Leader and Resiliency Expert Troy Payne had no idea Aside From Sorrow would still be together 4 years after forming. "When these boys joined me for this project they were just 15 years old." Payne reflects, "I thought we'd last a year at most."
Now 4 years and 2 albums later, the boys have grown up in the band. That original project was called Rock 'n Resiliency. Payne, who speaks to high school students about overcoming adversity of drugs, bullying and divorce, wanted to have an even bigger impact. "I'd been playing recorded music in my presentations for years. I thought it would be amazing to have high school musicians join me to make it a live show."
Of course the teens were pumped to be on stage. But it wasn't long before they tired of playing cover tunes. "Even as young teenagers, these guys were some of the most amazing musicians I've ever seen." Payne smiles thinking back. So they headed into the studio to record Out of the Darkness…Into the Light which turned out to be a soundtrack to Payne's international bestselling book The Road to Resiliency. It depicts the struggle Payne faced as a child being abused. But it really reflects the struggles we all face with adversity and the hope and healing that exists beyond that.
The band still rocks out with that resiliency message for high school students, but the music they recorded for their second release - an EP called Love's Many Faces- is all grown up. It follows the pain and beauty at the beginning and at the end of relationships.
The single on the album, The Journey, is an epic song, clocking in at 8 minutes and 56 seconds. "We were jamming in Mark's basement" (that's drummer Mark Lawlor), "and this song flowed so effortlessly we didn't want to stop." Before any lyrics were written Payne asked the band what the song felt like and Bass Player Sajan Jacob piped up "It's like a journey. The song is like a journey and our life is like a journey."
And the journey for this band has been quite a ride. Lead guitarist, Jordan Ewasiuk shakes his head in amazement, "We've been featured in movies, a TV series and our single, The Journey, is now being produced into an international video to launch an online TV station. It blows my mind."
You can feel the brotherly love between these band members, as though they really are on this journey together. "This album is about discovering who we are and where we're going," says songwriter and producer Troy Payne, "it's really the story of everyone's life."
Check out Aside From Sorrow on iTunes and watch the band at http://www.WellnessRealization.net.