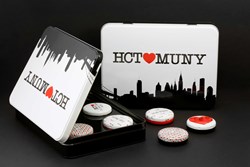 New York, New York (PRWEB) September 24, 2013
HCT Packaging, Inc. a leader in innovative product packaging and formulation design, is set to present their newest products at the third annual MakeUp in New York trade show at Center548 in New York City from Wednesday, September 25th through Thursday, September 26th. HCT Packaging will be located at booth # 301.
HCT is proud to debut an array of carefully curated collections uniting both beauty and the art of design to deliver products that exceed market expectation. Combining their expertise in formulation with their finesse in packaging, HCT will be showcasing the latest and greatest in skincare and cosmetics.
As anticipated, HCT will showcase beauty collections that allow the ever-coveted runway ready looks to be easily obtainable by the consumer. By taking an unconventional approach to color cosmetics, they have created long lasting formulas that boast vibrantly rich shades and lustrous textures. Complementing these technology-driven formulas are several lavish brush and pump designs awaiting presentation, along with a charming custom "HCT 'HEARTS' MUNY" tin made especially for the event.
The spotlight doesn't stop with advancements in beauty though; whether the consumer wants to simplify or expand their daily skincare ritual, HCT has cultivated the perfect ensemble of luxurious skincare products that give the opportunity to create the perfect radiant complexion. Director of Product Innovation, Angela Umelo, states, "We are very excited to showcase HCT Beauty's newest innovations in makeup and skincare. Attendees of the show will be intrigued by our newest collection as we are bringing cutting edge formulas combined with unique and modern packaging to our ever-changing market."
About HCT Packaging:
Founded in 1992, HCT Group is a global leader in cosmetic design and manufacturing, producing cutting edge innovations in packaging development. In recent years, HCT has expanded their divisions to include turnkey solutions and more patented and patent-pending packaging solutions in skincare, cosmetics, brushes, pumps and point of sale than any other company in the world. Today, HCT is a global business with offices in New York, Los Angeles, London, Paris, Moscow, Milan, Hong Kong and Madrid.
For more information on HCT, please visit http://www.hctpackaging.com and for further information on MakeUp in New York and to register for a free entry pass, please visit http://www.makeup-in-newyork.com.