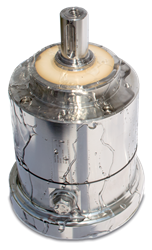 "WITTENSTEIN alpha is offering one of the largest selections of hygienic and washdown solutions, tailored to our customer requirements", says Peter Riehle, President & CEO of WITTENSTEIN North America.
Bartlett, IL (PRWEB) September 25, 2013
WITTENSTEIN provides a wide range of solutions to service the needs of the food and beverage processing, dairy, pharmaceutical, medical and other process technology industries. Cleaning intervals, the cleaning detergents and the cleaning procedures are just three factors that must be taken into consideration when choosing the right drive components.
1. New Hygienic Design Gearheads and Integrated Motor Gearhead Units Offer the Highest Level of Corrosion Protection.
The WITTENSTEIN alpha Hygienic Design gearhead provides the highest possible protection. The Hygienic line is IP69K rated with electropolished surfaces. 316L series stainless steel guarantees highest corrosion resistance.
2. Stainless Steel and Nickel Plated Gearheads Provide Medium Corrosion Resistance.
The new stainless steel LP Generation 3 product family as well as our upgraded inline and right angle GCR product portfolio effectively protects the gearheads from corrosion while ensuring reliable performance. All gearheads are supplied with food grade lubrication and a 300 series of stainless steel output configuration to meet your requirements.
3. Basic Corrosion Protection for Any WITTENSTEIN alpha Gearhead.
Any WITTENSTEIN alpha gearhead can be supplied with different colors of Steel-It paint and a 300 series of stainless steel output configuration to protect the gearhead. This basic protection is an efficient solution for many axes, where there is minimum direct cleaning of the gearhead required. This configuration is available for the entire WITTENSTEIN alpha gearhead line, and all gearheads are supplied with either food grade oil or grease.
WITTENSTEIN alpha has applied significant research and developed expertise to exceed the requirements in the packaging, food processing, food handling and pharmaceutical industries. WITTENSTEIN alpha provides one of the world's complete line of gearheads for washdown and corrosion resistant applications and meet FDA, 3-A and EHEDG standards.
Our WITTENSTEIN alpha industry experts can help you determine the right gearhead protection, together with you - for your application.