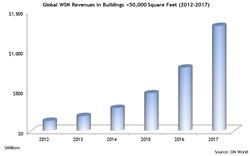 A transformation is underway in the building automation market due to low-cost Internet based services enabled by wireless sensor networks.
San Diego, California (PRWEB) September 25, 2013
Wireless sensor networks (WSN) will be responsible for the majority of the growth in intelligent building systems over the next decade, according to a recently published report by ON World.
"A transformation is underway in the building automation market due to low-cost Internet based services enabled by wireless sensor networks," says Mareca Hatler ON World's research director. "From building-wide wireless mesh networks to room-level controls, there are dozens of new entrants that are challenging the incumbents especially for small and medium sized buildings."
Wireless HVAC solutions have increased dramatically over the past few years with the majority of the growth from Internet enabled smart thermostats in smaller buildings. Some of the fastest growing distribution channels include retail as well as IP security/ home automation service providers that are increasingly targeting small businesses. Established building automation vendors are responding to this threat with acquisitions such as Siemens (Advanced Telemetry and Control Sites) and Schneider (SCL Elements and Viconics).
In 2017, there will be 32 million WSN chipsets shipped worldwide for smart building applications with WiFi, ZigBee and EnOcean increasing the fastest. However, technology market shares and growth rates will vary significantly by market and application.
ZigBee/802.15.4 and EnOcean will make up 61% of the combined market for HVAC and lighting in 2017.
ON World's recent survey of 85 professional installers found that 80% are targeting commercial markets. For the installers targeting commercial markets, 27% of their combined businesses comes from commercial versus residential deployments. Twenty-four percent have deployed wireless sensor networks with >100 nodes. Sixty-four percent are using or planning WSN systems such as those offered by Control4, Crestron, Ecobee, HAI/Leviton, Honeywell, Lutron, Nest Labs, and Vantage.
Professional installers rank data reliability and security as the most important WSN adoption considerations followed by equipment costs, installation flexibility and scalability. IP addressable sensors also rank high with nearly 8 in 10 saying this is "important" or "most important."
Although they only made up about 15% of the WSN unit shipments in 2012, small and medium sized buildings are the fastest growing segment in building automation. In 2017, global WSN revenues from buildings under 50,000 square feet will increase 928% from 2012 and reach $1.3 billion at this time.
ON World's report "Smart Building Wireless Sensor Networks" is based on phone interviews and online surveys with over 250 individuals including facility/property managers, professional installers, equipment manufacturers, software developers and component suppliers. It covers the global WSN market for non-residential buildings including six application areas (lighting, HVAC, security/safety, metering, environmental monitoring and guest controls) in ten market segments. Forecasts are for WSN equipment and services in each market as well as by geography and technology. WSN technologies included are ZigBee, 802.15.4, WiFi, EnOcean, Z-Wave, 6LoWPAN and several proprietary variants.
The report synopsis and a free executive summary is available from: http://onworld.com/smbldgs.
About ON World:
ON World provides global business intelligence on smart technology markets. Our research reports and information services are sold to Fortune 1000 companies, startups and investors worldwide. More info: http://www.onworld.com.
Contact:
Mary E. Purvis
p: 858-259-2397
e: research(at)onworld(dot)com