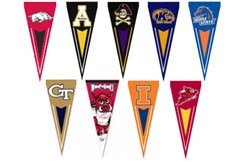 (PRWEB) September 24, 2013
Recently, Pennant-Flags.com, a well-known supplier of custom flags, has introduced its new products, pennant flags and pennant banners. Today, the company announces its special offer on all these new items, up to 30% off.
Based on the company's spokesman, the flags and banners are made in an all weather material (100% polyester flag material). Anyone who places an order can enjoy a special discount. Those who places an order over $2000 can especially enjoy an extra discount.
The spokesman says, "The colorful pennant flags and banners are specially designed for your next festival, grand opening, and carnival. It is fun to choose from a fun array of colors and watch them blow with the breeze. They are the cutest, prettiest things ever. Now, we can make custom designs in different shapes and sizes to suit all needs from various companies. Please note the promotion is valid until Oct. 12, 2013."
Pennant-Flags.com's products are very popular in the market, because the company has a strict quality control policy. The company has a strict quality control policy, inspecting and re-inspecting the ready-made products before shipment, so that they can meet the desired requirements and quality.
About Pennant-Flags.com
Founded in 2006, Pennant-Flags is an industry leader due to its outstanding customer service and the best selection of cheap advertising flags, custom Swooper flags, outdoor banners and more. Its customers come from many countries all over the world. The company aims to offer its customers more choices with affordable prices, and they accept customer's own designs as well.
For more information, please visit: http://www.pennant-flags.com/