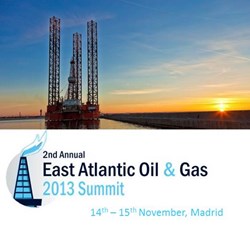 It's an IRN Summit!
Madrid (PRWEB UK) 25 September 2013
Back in 2006, it was estimated that the proven oil reserves of Morocco were vast with just natural gas reserves reaching the 60 billion cubic feet, although many of the sedimentary basins remain till today completely unexplored. However, following the last licensing round, oil companies are planning to drill 10 wells in Moroccan waters through 2014, a number that represents the fastest pace of opening wells in the past decade.
Moroccan E&P is going to be one of the topics that will be addressed in depth at the 2nd Annual East Atlantic Oil & Gas Summit, with Governmental Officials like Hosna Mustaphi, Head of Hydrocarbons Exploration and Production Department from the Ministry of Energy, Mines, Water and Environment in Morocco contributing insights on the energy developments.
Companies that are currently operating in Morocco, including OHNYM, Genel Energy and Circle Oil will be also involved in the East Atlantic Oil & Gas Summit, with the Country Manager of Circle Oil, Shamil Douad; the Head of Promotion & Partnership Manager in ONHYM, Haddou Jabour, and a senior representative from Genel Energy speaking at the summit.
The Summit is organised by the global event's organiser, IRN, and will be held on 14th-15th November in a five star venue in Madrid to bring together the key players of France, Mauritania, Morocco, Spain and Portugal in order to analyse business opportunities that currently exist or will arise in the underexplored hydrocarbon industry of these countries.
More information on the full agenda of the 2nd East Atlantic Oil & Gas 2013 Summit can be found online at http://www.eastatlanticsummit.com.