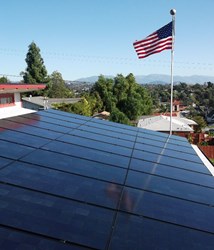 By partnering with the Veterans Museum and Memorial Center, we are not only supporting the museum and those who have served the nation, but also weaning our country off of imported fuels and encouraging our community to become independent energy producers
San Diego, CA (PRWEB) September 25, 2013
The Veterans Museum and Memorial Center today announced that it has launched a partnership with local renewable energy firm, Sullivan Solar Power, to encourage the region to declare energy independence. For each property owner that goes solar with Sullivan Solar Power as a result of the partnership, the company will provide significant donations to the museum, which honors the men and women who served in the U. S. Armed Forces, Coast Guard and Wartime Merchant Marine.
"I founded Sullivan Solar Power with the vision of transitioning our region from foreign fossil fuels to a clean energy future where we aren't going overseas to fight for oil," said Daniel Sullivan, president and founder of Sullivan Solar Power, "By partnering with the Veterans Museum and Memorial Center, we are not only supporting the museum and those who have served the nation, but also weaning our country off of imported fuels and encouraging our community to become independent energy producers."
Sullivan Solar Power will make a donation of $500 to the Veterans Museum for each household that goes solar with Sullivan Solar Power who heard about the partnership through the Veterans Museum. Executive Director of the Veterans Museum and Memorial Center, Rear Admiral Rod Melendez, USN/Ret., has already signed up to go solar with Sullivan Solar Power as the first partner participant.
"My investment in solar power will gain my family substantial savings in energy costs in the upcoming years and also give me the satisfaction of helping to reduce the carbon footprint in San Diego," said Melendez, "The special incentives provided by Sullivan Solar Power coupled with their reputation were key factors in his decision process to install solar power on my home."
Sullivan Solar Power honors those who have served by offering a $300 discount to veterans and active-duty military personnel. In addition, the company is paying local residents to go solar with its Sullivan Cash Reward incentive, 20 cents per watt, up to $1,500 cash-back, which is available to all San Diego Gas and Electric (SDG&E) ratepayers through the end of 2013.
Solar has been California's fastest growing industry over the past two years, which can be attributed to the declining cost of solar panels, new financing options, and utility rate increases. SDG&E's rates went up as much as 39 percent in September and will increase again in January of next year.
"Over the past two months our company has been inundated with inquires for solar more than ever before in our nine-year history," said Sullivan, "Going solar allows San Diegans to save themselves from the additional financial burden SDG&E is imposing upon them."
SDG&E has had the highest rates in the continental United States, even before their recent rate increase. A homeowner in the SDG&E utility territory who previously paid $220 per month will now pay $280 for the same amount of electricity consumption. By going solar, homeowners can hedge against future utility rate increases, and have 30 percent of the project cost paid for in the form of a federal tax credit. In order to utilize the tax credit for 2013, Sullivan is encouraging property owners to sign up to go solar within the next two weeks.
For more information about solar power or to receive a complementary site evaluation, call 1-800-SULLIVAN or visit http://www.SullivanSolarPower.com.
The Veterans Museum is open Tuesday through Sunday from 10 a.m.-4 p.m. For more information about the Veterans Museum and Memorial Center call 619-239-2300 or visit http://www.veteranmuseum.org.
About Sullivan Solar Power
Sullivan Solar Power is a turnkey solar system provider that delivers solar electric projects from concept to completion. The company has installed over 14,000,000 watts of solar power ranging from small-scale residential to large-scale commercial and municipal systems. Sullivan Solar Power is headquartered in San Diego, CA and owned and operated by Dan Sullivan. Sullivan Solar Power has a longstanding A-plus rating with the Better Business Bureau, with no complaints filed since the business began. The firm has been named one of the fastest growing energy companies in the nation by Inc. Magazine for three consecutive years and services all of Southern California. Regardless of project size and scope, Sullivan is committed to delivering the best products and the most qualified professionals to its customers. Visit http://www.sullivansolarpower.com for more information.
About the Veterans Museum and Memorial Center
The Veterans Museum and Memorial Center in Balboa Park honors the men and women who served in the U. S. Armed Forces, Coast Guard and Wartime Merchant Marine. This non-profit museum was established in 1989 and has been a fixture in Balboa Park and the museum scene since opening their doors in 1991. They are more than just a museum; they are also a focus and supporter of veterans' activities in San Diego.