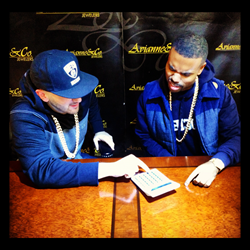 "When it comes to celebrities and musicians, everyone is going to have nice clothes and expensive cars," said George Avianne. "What everyone doesn't have is the exquisite, one-of-a-kind custom jewelry that only the experts at Avianne & Co. can provide."
New York (PRWEB) September 26, 2013
Stand-up comedian and writer Lil Duval turned to Avianne & Co., an elite custom designer jeweler, for his diamond chai pendant and gold chain.
The custom pendant is in the shape of chai, a symbol prominent in Jewish culture, and features 14-karat yellow gold. The pendant is detailed with brilliant round-cut diamonds set using the micro pave setting technique, known only by a handful of jewelers around the country.
Lil Duval's chain is customizable in a variety of lengths in yellow, white and rose gold, as well as in black rhodium plating. The chain is securely lockable with a durable lobster claw clasp.
The retail cost of the pendant and chain is $23,400.
"When it comes to celebrities and musicians, everyone is going to have nice clothes and expensive cars," said George Avianne. "What everyone doesn't have is the exquisite, one-of-a-kind custom jewelry that only the experts at Avianne & Co. can provide."
A regular at the New York City-based jewelry store, the internationally acclaimed comedian has developed an incredibly diverse and well-crafted collection of men's solid gold jewelry, much of which was designed exclusively by the master craftsmen at Avianne & Co.
Lil Duval is one of many men today using fine diamond jewelry to express themselves. Gold jewelry for men is a bold gesture in the contemporary gentleman's wardrobe. While traditionally limited to a small selection of accessories, men's jewelry has found itself in the middle of a renaissance in which the emphatic and assertive are celebrated over the more traditional and uninspired.
The designers and master craftsmen at Avianne & Co. Jewelers are at the forefront of this movement. The team has developed a reputation for inventive designs that challenge traditional forms with innovative technologies and materials.
In Manhattan's famed Diamond District, Avianne & Co. Jewelers is a premier fine jewelry source for celebrities, entertainers and athletes. First- and second-generation immigrants founded the family business in 1999 and Avianne & Co. has since built a reputation for custom and high-end pieces including elegant diamond necklaces and bracelets, exquisite engagement rings and wedding bands, watches and chains for its celebrity and executive clientele. Famous personalities purchase custom jewelry exclusively from Avianne & Co., including Derrick Williams, Ne-Yo, Lil Wayne, Cam'Ron and Nicki Minaj, and those pieces are featured in major news outlets including Forbes and XXL. Avianne & Co. survived the economic recession at a time when historic jewelry businesses were shutting down in the heart of America's NYC Diamond District. Avianne & Co.'s store is located on West 47th Street between 5th Avenue and 6th Avenue (Avenue of the Americas) in midtown Manhattan, within walking distance of many New York attractions. For more information, visit http://www.avianneandco.com or call 888-243-4344.
###
For additional information, interview and image requests, contact Axia Public Relations at 866-999-2942, ext. 700.