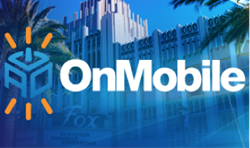 2013 continues to be a break-out year for appsFreedom. Being named a 'Company to Watch' by OnMobile is yet another proof-point that we are successfully building a world-class enterprise mobile company
Chandler, Arizona (PRWEB) September 25, 2013
appsFreedom™, a leading provider of enterprise mobile cloud software announced today that it was named a 2013 OnMobile Company to Watch. Every year, OnMobile gathers the brightest minds for a lively exchange on the top trends and most lucrative entrepreneurial opportunities in mobile. Over 120 top private company CEOs, venture investors, big company and studio players, research analysts, and key members of the press participate in a live and webcast debate on what's hot in the mobile enterprise.
According to OnMobile, this year's 50 mobile companies to watch are the future of a world that's embraced mobile technology, immersing us in a connected world that's home to limitless entrepreneurial possibilities. The AlwaysOn editorial team identified 50 mobile companies to watch during the coming year. Representing a wide range of sectors – advertising, cloud services, gaming, enterprise, commerce, social media, and more – these up-and-comers have solid, early-stage backing and the potential to hit $200 million in revenue during the next few years, indicating substantial returns for their inventors and rapid revenue growth in the short-term. These companies are the next generation in mobile, providing innovative applications and hardware solutions for both consumer and business users. The OnMobile 50 Companies to Watch will be honored on October 10, 2013 at The Mobile Venture Summit taking place at The Fox Theatre in Redwood City, CA.
"2013 continues to be a break-out year for appsFreedom. We have received numerous awards and gained recognition as a leading mobile innovator and being named a company to watch by OnMobile is yet another proof-point that we are successfully building a world-class enterprise mobile company," stated Vaidy Iyer, appsFreedom founder and CEO.
The award-winning appsFreedom solution includes the patent-pending Freedom Platform, an enterprise-grade, fully integrated cloud-based mobile development and management platform that helps companies accelerate time to value and extend the mobility value proposition throughout the organization. The platform simplifies a customer's ability to design, build, deploy, manage and analyze the adoption of mobile apps. The appsFreedom Version 3.0 solution consists of:

Freedom Apps: ready-to-use, pre-integrated apps that are deployed in a matter of days for key business functions including sales, management, procurement, HR and field services; and
Freedom Platform: mature cloud-based Mobile Application Development Platform (MAPD) to easily design, build, deploy, manage and analyze in-house developed apps and a corporate app store.
The company's Freedom Apps are offered under a simple per-user subscription based pricing model and use of the Freedom Platform is now included in the solution at no additional cost. The solution has no limitations on the number of apps or transactions, and customers can incrementally add apps or users at any time.
About the OnMobile / AlwaysOn
OnMobile is AlwaysOn's annual mobile powerfest. AlwaysOn is the leading business media brand connecting and informing the entrepreneurial community in the Global Silicon Valley. Founded by Red Herring founding editor Tony Perkins in 2003, AlwaysOn's mission is to continue to lead the industry by empowering its readers, event participants, sponsors, bloggers, and advertisers like no other media brand. To learn more, visit https://events.aonetwork.com/ehome/onmobile
About appsFreedom™ appsFreedom is a leading provider of Enterprise Mobile Cloud Software for SAP that enables companies and their employees to achieve Workplace Freedom. appsFreedom drives business productivity with pre-built, pre-integrated, ready-to-use Freedom Apps and the Freedom Platform, which empowers enterprises to build, deploy, manage and run mobile apps in a simple user-based subscription model. With appsFreedom, business users access their enterprise applications rapidly and securely from any device, anytime, anywhere. Global companies across the industry spectrum rely on appsFreedom for the best-in-class mobile cloud solution and highest ROI in the marketplace. To learn more, visit http://www.appsFreedom.com