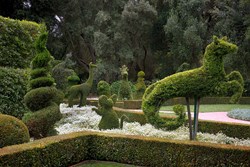 Lotusland's topiaries and garden clock especially epitomize the whimsical aesthetic for which Lotusland is renowned.
Santa Barbara, CA (PRWEB) September 24, 2013
Ganna Walska Lotusland is the recipient of a $1 Million gift from an anonymous donor for the purposes of creating an endowment fund to sustain, in perpetuity, Lotusland's historic Topiary Garden.
Lotusland's President of the Board of Trustees, Larry Durham, said, "We are deeply grateful for this incredibly generous gift from one individual, who is committed to the preservation of Lotusland and who believes in the vital importance of building endowment to ensure that Lotusland is always here for future generations."
The original Topiary Garden at Lotusland was created by Ralph Stevens and Madame Ganna Walska from 1955 through 1957, and includes two types of specialized gardens: a 25-foot working floral clock, and trained topiaries. At the time, Lotusland's floral clock was the largest in the world and it features a face with each hour signified by a copper zodiac sign set in plantings of different succulents and colored stones. Ganna Walska surrounded the clock with numerous large topiaries, already clipped as fanciful animals and geometric forms, she acquired from Osaki Plant Zoo in Los Angeles. In 2000, the aging Topiary Garden was renovated in honor of Carol Valentine, Lotusland's Board President at the time.
The art of topiary, believed to originate in ancient Rome and re-popularized throughout the gardens of Europe, came into favor in the United States during the turn of the 20th century. In that same period of garden history, the first floral clock was constructed in Edinburgh, Scotland.
Ganna Walska Lotusland is one of the few remaining, intact examples of great American estates built in Santa Barbara during the Golden Age. Started in 1882, Lotusland was created by some of the most influential taste-makers in Southern California's estate building and garden design professions, including Reginald Johnson, George Washington Smith, Ralph Kinton Stevens, Lockwood De Forest, Charles Glass, and Madame Ganna Walska.
"Lotusland's topiaries and garden clock are critically important examples of the spectacular features incorporated into American garden estates during the first half of the 20th century, and they especially epitomize the whimsical aesthetic for which Lotusland is renowned," said Lotusland Executive Director, Gwen Stauffer. "Many people are under the impression that Ganna Walska left a large bequest that would adequately care for Lotusland – this simply is not true. We must increase Lotusland's very small endowment significantly to ensure that Lotusland continues to exist as an iconic, living piece of Santa Barbara's history, and we plan to do that by endowing one garden at a time. Therefore, we are especially grateful to this donor who understands the power of endowment gifts and chose to endow Lotusland's topiary garden. This gift is a momentous start to our endowment strategy to preserve and sustain Lotusland in perpetuity."
For more information on Lotusland, visit their website at http://www.lotusland.org/.
Contact: Anne Dewey, Director of Development, (805) 969-3767, ext. 105, adewey(at)lotusland(dot)org.