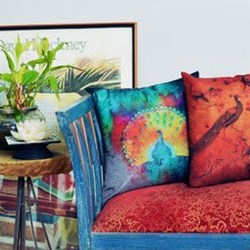 (PRWEB) September 27, 2013
India Circus, the home-decor, lifestyle and personal accessories label, headed by the brilliant Krsna Mehta is pleased to unveil the new range of their products. A contemporary twist on the traditional, these new products are definitely worth a buy. The collection ranges from doormats, visiting card holders and new cushion covers.
This collection has taken items which are not always appealing and given them a very fresh perspective. The doormats are brought alive with vibrant patterns and motifs ranging from tigers and birds, busy streets and flowers. The doormats are definitely refreshing and a must have.
Another feature of this collection is the different take on visiting card holders. Taking an item which is usually just a functional piece, India Circus has revamped the design making them not only nice to carry around but also they make for great gifts. Beautifully designed these visiting card holders carry bold graphics from royal elephants to funky slippers and are extremely unique.
The new range of cushion covers is also extremely dynamic and visually rich. From swans, gardens and peacocks these exquisitely designed cushion covers are quite the sight. Just placing one of them in a room can completely brighten up the space. With bolder colors and designs these beautiful cushion covers are one of a kind.
India Circus is a design house which believes in attention to detail. Each thing that we design has to be something unique and precious. It is this design ideology that makes every product of India Circus a true pride and pleasure to own. For more details log on to http://www.indiacircus.com