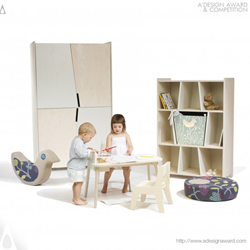 Como, Italy (PRWEB) September 27, 2013
A' Design Award and Competitions are pleased to share that the design Bird&berry Collection by Architect Aija Priede-Sietina and Daneks Sietins won the notable Golden A' Design Award in Baby, Kids' and Children's Products Design Category elected as a winner by the esteemed awarding commission of the A' Design Award & Competitions among thousands of designs.
Regarding Bird&berry Collection
The Bird&berry collection represents a balance between parents and child's understanding of aesthetics. The collection combines simple elegance with functionality. Sloped lines are a reminder that nature doesn't think in straight lines thus evoking curiosity and imagination of little ones, allows them to think outside the box and become into an independent think-full person. Collection is focusing on child's needs and every piece created with many details introduced. Furniture that made with love and attitude becomes something more than just a thing.
To learn more about the award winning design, please visit: http://www.adesignaward.com/design.php?ID=28278
Project Members for Bird&berry Collection
Bird&berry Collection was designed by Architect Aija Priede-Sietina and Designer Daneks Sietins
The Golden A' Design Award
The Golden A' Design Award is a prestigious award given to top 3% percentile designs that has achieved an exemplary level of greatness in design. The designs are judged by a panel of three different jury which is composed of Academic, Professional and Focus Group Members. The designs are evaluated with score normalization to remove any biases and are voted on aspects such as functionality, ergonomics, engineering, presentation, innovation, usability, fun details, technology, and any other specific points that could be considered, each of these points are further weighted for different jury groups.
About A' Design Award and Competitions
A' Design Award and Competitions, aims to highlight the excellent qualifications of best designs, design concepts and design oriented products. A' Design Award and Competitions are organized and awarded annually and internationally in multiple categories to reach a wide, design-oriented audience. Learn more at: http://www.whatisadesignaward.com