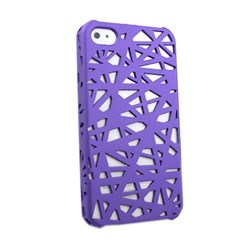 (PRWEB) September 25, 2013
Recently, 4leafcity.com, a well-known online store of iPhone cases and accessories, has added the newest designs of iPhone 5 hard cases to its catalog, and launched a promotion of iPhone 5 hard cases. Now, the website of 4leafcity.com features many new iPhone 5 hard cases at greatly discounted prices.
The company is a leading fashion online store well-known for a great number of award-winning designs and fashion items. Now, its website features a big collection of iPhone 5 cases which are carefully designed and are made of high quality materials.
The CEO of the company says, "We aim to sell 10,000 cell phone cases this time, and we have confidence to meet and surpass it. Before making a decision to buy a fashionable cell phone case, it is a good idea to check our website. In addition to great discounts, we provide speedy delivery to give the best experience possible to a wide array of people."
The hard cases are also quite stylish. These too are available at very affordable prices. Those who want to buy cheap iPhone 5 hard cases online should visit 4leafcity.com as soon as possible, because the promotion is valid until Oct. 12, 2013. The cases offer maximum protection to the mobile phones. And this is not all; along with reasonable protection, the cases the company supplies also add style to the mobile phone.
Along with cheap iPhone 5 hard cases, other cases for iPhone 5 are also available at 4leafcity.com, including diamond rhinestone cases, luxury black chrome peacock rhinestone cases and many more. All these luxurious cases are available at very cheap rates.
4leafcity.com is based in China. The company supplies dresses for men and women along with electronics and various accessories. More details about iPhone 5 hard cases can be found at http://4leafcity.com/product-iphone-5-hard-cases-010001002.aspx