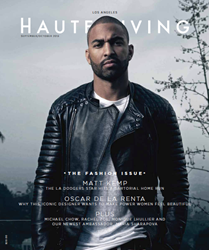 "This year has not been a really good year on the baseball field. I've been hurt most of the year, but the way you bounce back tells you a lot about yourself." —Matt Kemp
Los Angeles, Calif. (PRWEB) September 25, 2013
Matt Kemp is Haute Living's man of style in the September/October Los Angeles Fashion Issue. The LA Dodgers star discusses his baller style, affinity for designer watches and cars, and why he defines the term "Renaissance Man."
"I wanted to be both a basketball player and a baseball player," he says. "Only one of my dreams came true, but I can't complain. To see where I was, and where I am now, I'd say I'm a pretty lucky person."
This family-oriented philanthropist chats about his reaction to losing terminally ill fan Joshua Jones this past year, and how his innate optimism convinced him he would be back on the baseball field this season. "This year has not been a really good year on the baseball field. I've been hurt most of the year, but the way you bounce back tells you a lot about yourself."
As for his style, that's been passed down through generations: " My grandma taught me about style. She's a seamstress, and back when I was a kid, my grandma always made sure my clothes were ironed and clean. I always looked nice, and I still like to look nice."
Also in this issue: Oscar de la Renta is a true man if confident style, and Rachel Zoe walks us through a day in her incredibly haute life. Monique Lhuillier gives us her restaurant picks, and heiress Samantha Kluge finds serenity in LA. Also, learn why Mr. Chow restaurateur Michael Chow reveals he's no longer focusing on anything but painting.