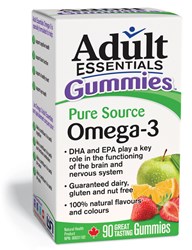 Read the label carefully to determine which type of Omega 3 you are buying and how much actual EPA and DHA each product contains.
Burlington, Ontario (PRWEB) September 26, 2013
Recent news about the benefits of Omega 3 for helping children learn, published in Science Daily, has consumers scanning the store shelves, but before they do that, Life Science Nutritionals, the makers of IronKids and Adult Essentials Omega 3 gummy vitamins, wants to set the record straight and teach consumers how to label shop for an Omega 3 supplement.
There is a lot of information out there about Omega 3 supplements. Thanks to a vast amount of research in the health benefits of Omega 3 fatty acids, the label "Omega 3 Source" is cropping up on all sorts of food products and vitamins. The trouble is that many of these labels do not qualify the type, quality or even quantity of Omega 3 consumers are getting from these products.
"It really is the case that consumers need to educate themselves on what to look for when shopping for a fish oil supplement," says LSN Founder and CEO, Stuart Lowther.
Unfortunately for consumers, not all Omega 3 oils are created equal. Most of the health benefits consumers hear about Omega 3's, like supporting brain development and promoting heart health, are from EPA and DHA. ALA, an Omega 3 fatty acid derived from plant sources, is a precursor to the preferred EPA + DHA found in fatty fish.
The problem with supplementing with ALA alone is the human body is not efficient enough at converting ALA into the usable EPA + DHA to reach the recommended levels. While ALA rich foods, like walnuts and flax seeds have other benefits, it is not a viable source of EPA and DHA as less than 5% of ALA is converted to EPA and DHA.
"Whole foods should always be your first choice for getting the nutrients your body needs," says Lowther. "The reality is that getting all your vitamins and minerals from food may not always be possible, that's when people should turn to supplements to fill the gap."
One of the reasons people cite for not taking fish oil supplements is concern over mercury levels. It's the same reason health professionals recommend pregnant women - cut back on their consumption of certain types of fish. Mercury and other contaminants build up in fish as they consume algae and smaller fish further down the food chain.
Consumers should look for a fish oil product that supplies both DHA and EPA from "pure sources". Also look for terms as "distilled" or "purified". Quality manufacturers use a distillation process to ensure that there are no contaminants in the oil, such as mercury or PCB's. "At Life Science Nutritionals, we use fish oil from the worlds premier supplier that uses a patented process to triple distill the oils and remove contaminants that may exist."
"Read the label carefully to determine which type of Omega 3 you are buying and how much actual EPA and DHA each product contains," advises Lowther who also recommends checking the non-medicinal ingredients for things you don't want, like artificial colours or sweeteners. "Many products claim high levels of Omega 3's but only contain plant based sources and therefore not EPA and DHA."
"No matter which brand you buy, look for a Health Canada label. That identifies it as a product that is Health Canada approved, meaning Health Canada has licensed the manufacturing facility and approved the raw material, the final formula, the product labeling and any associated health claims."