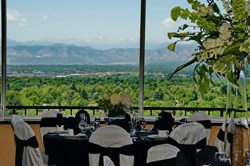 Enjoy stunning views of the Rocky Mountains from the Cherry Creek Skyline Ballroom.
Denver, CO (PRWEB) September 30, 2013
The Courtyard by Marriott Cherry Creek hotel is thrilled to host the October Visit Denver After Hours, a monthly networking event that allows Visit Denver members to connect with each other and staff members in a casual setting. On Oct. 16, more than 100 Visit Denver members are excepted. Attendees will enjoy breathtaking views of the Rocky Mountains from the hotel's stunning event venue, the Cherry Creek Skyline Ballroom, as well as refreshments and networking opportunities.
Festivities start at 5 p.m. Admission to the event is $12 per person and includes appetizers and drinks. Open only to Visit Denver members. Advance reservations are accepted.
For more information or to RSVP, go to VisitDenver.org/members/member-events.
Visit Denver is a private, nonprofit trade association responsible for marketing metro Denver as a business and leisure destination. The Bureau is contracted by the City and County of Denver to act as the official marketing agency for Denver. It is governed by a board of directors and employs a staff of more than 60 professionals. It utilizes an integrated marketing approach to promote Denver as a travel destination, which includes a variety of initiatives like convention industry trade shows, advertising, Internet promotions, podcasts, email blasts, public relations and press tours, visitor information centers and much more.
Conveniently located in the popular Cherry Creek area near downtown Denver and I-25, Courtyard by Marriott Denver Cherry Creek hotel is close to great shopping, dining and attractions. It is also just minutes away from the University of Denver, the Cherry Creek Shopping District, Denver Zoo, Sports Authority Field at Mile High and the Ritchie Center. The full-service hotel offers stylish comfort in a growing urban setting with features like spacious, comfortable guest rooms, modern, plush bedding, stylish bathrooms, room service, in-room refrigerator and microwave, complimentary wireless Internet access, customizable work spaces and a variety of other luxury amenities. Additionally, the hotel's spacious, versatile meeting and banquet spaces, with catering services and an on-site highly experienced catering and event manager available, are a great place to host business events, weddings and special occasions. The Courtyard by Marriott Denver Cherry Creek hotel is proudly managed by Stonebridge Companies in Denver, CO.
Founded in 1991 by Navin C. Dimond, Stonebridge Companies is a privately owned, innovative hotel owner, operator and developer headquartered near Denver, Colorado. The company's current portfolio entails 45 hotels with over 7,000 rooms nationwide. This diverse portfolio includes select-service, extended-stay, mid-scale and full-service hotels in markets throughout the U.S. For detailed information, visit our website at http://www.SBCOS.com.