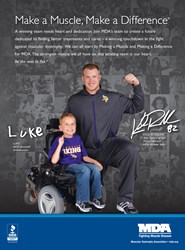 Minneapolis, MN (PRWEB) September 25, 2013
Professional athletes throughout the Twin Cities are set to share the spotlight with children served by the Muscular Dystrophy Association at the 2013 Minnesota Muscle Team event on Tuesday, Oct. 8 at TCF Bank Stadium from 6-9:30 p.m.
The MDA Minnesota Muscle Team is an event made up of athletes and alumni from local sports teams and beyond — all putting their muscle behind a cure for SMA (spinal muscular atrophy).
This year, MDA proudly to welcomes some of Minnesota's top athletes to its Muscle Team: Vikings third-year tight end Kyle Rudolph; Twins pitcher Glen Perkins; three-time WNBA all-star Seimone Augustus of the Minnesota Lynx; WWE wrestling legend and longtime MDA friend Sgt. Slaughter; and many more current and former stars from the city's professional sports franchises. Visit mdamuscleteammn.com to see all 2013 Muscle Team members.
"It's an honor to be part of the Minnesota Muscle Team and to be able to make a difference for those who are fighting SMA," said Rudolph. "I've had the opportunity to meet some of the MDA families who will be honored at this year's event and learn about their courageous battle against muscle disease. If my support can help raise awareness and vital funds for lifesaving research, I'm happy to offer it."
Muscle Team is a unique social event that invites professional athletes, local celebrities and business leaders to honor local children and adults who are living with SMA while helping to raise awareness and funds for families served by MDA in the Twin Cities area.
The evening will be hosted by co-emcees Joe Schmit (KTSP-TV) and Judd Zulgad (1500 ESPN radio host), and will include a fabulous dinner, entertainment, silent and live auctions, and much more.
Guests will have the chance to meet and greet athletes, coaches, MDA Most Valuable Players, local celebrities and business executives while raising money to support the Association. All funds raised at the event will go toward SMA research.
Minnesota Muscle Team executive committee members for 2013 include: head coaches Tom Hennessy of Hubbard Broadcasting (KSTP, KSTC45) and his wife, Tracy; Muscle Team Promotions Chair Jill Renslow, vice president of business development/marketing at the Mall of America; and Muscle Team Athlete/Family Chair Brad Madson, director of community relations for the Minnesota Vikings.
See a full list of committee members here.
This year's event also is made possible by the event's presenting sponsor, the St. Paul Pioneer Press, with help from Hall of Fame sponsors, including Caribou Coffee, the Minnesota Vikings and CITGO. See a full list of the 2013 event sponsors.
About MDA
The Muscular Dystrophy Association is the world's leading nonprofit health agency dedicated to finding treatments and cures for muscular dystrophy, amyotrophic lateral sclerosis (ALS) and other neuromuscular diseases. It does so by funding worldwide research; by providing comprehensive health care services and support to MDA families nationwide; and by rallying communities to fight back through advocacy, fundraising and local engagement. Visit mda.org and follow us at facebook.com/MDAnational and @MDAnews.