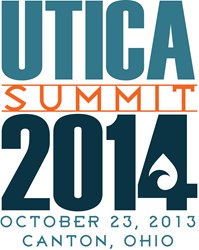 Our vision is to become the place where Utica business leaders come to think about transforming the economy through shale energy.
Canton, Ohio (PRWEB) September 27, 2013
Canton has become the headquarters in the Utica Shale play for numerous companies. Still, others have found business homes in the townships and neighboring cities of Stark County.
Furthering this interest and the excitement surrounding new energy development in Canton, the Utica Capital™, The Repository and the Canton Regional Chamber of Commerce have partnered to host Utica Summit 2014 on Wednesday, Oct. 23, from 8 a.m. to 5 p.m. at the Canton Memorial Civic Center. The event is presented by JPMorgan Chase.
Utica Summit 2014 will be a daylong forum for high-level conversation about what is possible, now and in the future, all because of the energy being brought out of the Utica Shale and other U.S. shale plays through horizontal drilling.
"Our vision is to become the place where Utica business leaders come to think about transforming the economy through shale energy," said Dennis P. Saunier, Canton Regional Chamber of Commerce president and CEO.
The event is intended to bring people together to talk about what can be done to fuel transportation across the United States with Utica energy, to build sustainable businesses powered by Utica energy, and to grow businesses that use Utica energy as their raw product to create industrial and consumer goods.
"The event is anticipated to host 400 participants from business, government and universities," added Repository Publisher Jim Porter. "We have created an event that includes nationally and internationally known speakers from companies that are doing extraordinary work in this industry."
The keynote luncheon speaker is Jim Umpleby, Group President, Energy and Power Systems, of Caterpillar, Inc.
Other speakers include:
--Peter A. Molinaro, Senior Advisor, North America Government Affairs, The Dow Chemical Company
--Michael Birk, Senior National Fleet Sustainability Manager, Frito-Lay North America
--Tom Gellrich, Founder, TopLine Analytics of Philadelphia
--Thomas D. Moline, Vice President, Steel Manufacturing, The Timken Company
--David Mustine, Managing Director for Energy, Chemicals and Polymers, JobsOhio
--Roe East, General Manager, On-Highway Natural Gas Business, Cummins Inc.
--Kirt Conrad, Executive Director, Stark Area Regional Transit Authority
Among the day's topics at Utica Summit 2014 will be discussions of the national efforts to develop engines that transport goods on natural gas, and companies turning to natural gas as a transportation fuel.
Others will identify how the state of Ohio, through its JobsOhio effort, is aggressively pursuing energy, chemical and other manufacturing opportunities, along with an update on the business attraction results. Still, others will explain the potential for manufacturing in a low-cost, big-supply energy environment.
And finally, guests will be presented with how ethane-based feedstocks from shale could make the United States competitive again in many plastics and resin products.
Utica Summit 2014 is made possible by presenting sponsor JPMorgan Chase, along with silver sponsor Young Truck Sales, bronze sponsor Jackson Kelly PLLC, and production assistance from Joe Barone of ShaleDirectories.com.
Registration is open at UticaSummit.com or by calling Monique Thompson at (330) 458-2070.
Tickets are $200 per person, or $1,100 for a table of six. Questions or inquiries can be directed to David Kaminski, director of energy and public affairs for the Canton Regional Chamber of Commerce at (330) 458-2059.