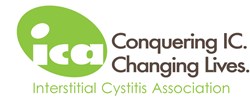 As a patient, I know just how invasive IC pain is—often affecting every aspect of an IC patient's life.
McLean, VA (PRWEB) September 25, 2013
ICA's New ICHope Tool Helps Patients Manage Their Pain by Changing Their Behavior
The Interstitial Cystitis Association (ICA) is proud to announce ICHope, a personalized online program designed to help people diagnosed with interstitial cystitis (IC) manage their pain. In partnership with Pro-Change Behavior Systems, Inc., ICA has developed this complimentary, interactive program based on the science of behavior change, which asserts that people go through a series of stages in the process of changing their behavior. IC patients use ICHope to assess which stage of change they are in and then receive stage-matched strategies to help them adopt positive behaviors to prevent or minimize pain and to cope with pain that does occur.
"As a patient, I know just how invasive IC pain is—often affecting every aspect of an IC patient's life," says ICA Board Co-Chair, Barbara Zarnikow. "Enabling patients with the tools they need to take charge of their pain not only improves their health, it allows them to regain control in their life. I think I speak for every patient when I say how truly exciting this one-of-a-kind program is for those experiencing IC pain."
ICHope is a complimentary, confidential, and user-friendly program that can be accessed on computers and mobile devices. It is a personalized program designed for people diagnosed with IC, whether or not they are ready to use healthy strategies to manage their IC pain. Designed to provide individual strategies to help patients get results, ICHope helps those diagnosed with IC make progress towards:

Finding and working with a healthcare provider who is committed to helping them manage their pain;
Learning self-care strategies to manage their pain; and
Staying hopeful and empowered.
ICHope helps patients in these areas by assessing which stage of change a person is in and then providing stage-matched strategies to accomplish them. The program accomplishes this by analyzing responses to questions about roadblocks a patient has experienced and then providing personalized resources and interactive tools for dealing with those specific issues and linking to more information. ICHope also has a pain tracker which enables patients to see how well the strategies are working for them over time.
"Knowledge is empowering, and when you can empower a patient, no matter what the disease, they develop a sense of control over their situation, which leads to a more hopeful outlook on the rest of their life," says Lee Claassen, CAE, ICA Executive Director. "In talking with people who've struggled with IC for years, I've seen that part of their strategy for success seems to be to focus on the positive, on what they can do to manage it."
The online program is now available for both patients and healthcare providers at http://www.ichelp.org/ichope.
ICHope is complimentary thanks to support by the Cooperative Agreement Number 5U58DP002936-02 from the Centers for Disease Control and Prevention. Its contents are solely the responsibility of the authors and do not necessarily represent the official views of The Centers for Disease Control and Prevention.
---
About the Interstitial Cystitis Association
The Interstitial Cystitis Association (ICA) is the only non-profit health association that advocates for interstitial cystitis (IC) research dedicated to discovery of a cure and better treatments, raises awareness, and serves as a central hub for the healthcare providers, researchers and millions of patients who suffer with constant urinary urgency and frequency and extreme bladder pain called IC. The ICA was established in 1984 to put a face on all those affected by IC and is dedicated to improving the quality of healthcare and lives of people living with IC. To fulfill its mission, the ICA pursues three core functions: advocacy, research, and education.