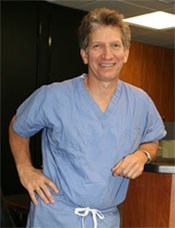 Newton Centre, MA (PRWEB) September 26, 2013
Dr. Stephen H. Grossman of Acton, MA now uses the new Laser Assisted New Attachment Procedure (LANAP) gum disease treatment in Newton Centre and Acton, MA to achieve predictable results. This laser gum surgery technique is cleared by the FDA and shown to be the most effective method of eliminating gum disease and restoring overall oral health.
If not properly treated, gum disease can spread and ultimately cause patients to lose teeth and even jaw bone density. Gum disease has also been shown to increase people's risk of some other medical conditions such as low birth weight, premature birth, diabetes and heart disease. Effective gum disease treatment is an important step in maintaining a patient's dental and medical health.
When undergoing laser gum surgery, patients concerned about anesthesia, stitches, severe bleeding and painful recovery periods can breathe a sigh of relief. LANAP eliminates all of that. With only a mild local anesthetic, Dr. Grossman uses the laser to hone in on diseased tissue and essentially vaporize it. After the unhealthy tissue is eliminated, any built-up tartar or calculus growth in the area is removed, and then a seal is formed around the nearby teeth to prevent any new bacteria from taking hold. During the process, patients typically feel a light warming sensation if anything at all.
Scalpel gum disease treatment options require the cutting out of infected tissue and commonly result in some non-infected gum also being removed. The laser gum surgery only removes diseased gum, allowing patients to retain the maximum amount of healthy gum possible. Gum tissue is critical for the proper support of teeth. Dr. Grossman invites patients interested in learning more about LANAP to call or visit his office.
About The Doctor
Stephen H. Grossman is a periodontist offering personalized dental care for patients in Acton and Newton Centre MA. Dr. Grossman graduated from University of Pennsylvania, School of Dental Medicine, which is also where he completed his general practice residency. He completed a two-year periodontal specialty program at the Boston University, School of Graduate Dentistry. He is currently working part time as a clinical instructor, Division of Periodontology at the Harvard School of Dental Medicine. Dr. Grossman is part of one percent of dental professionals providing the most recent FDA cleared laser procedure for gum disease and periodontal treatment. To learn more about Stephen H. Grossman and his dental services visit his website at http://www.newenglandperio.com and call (978) 631-3181.