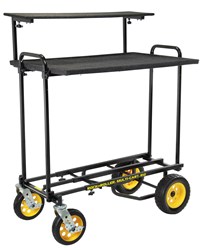 "Being lightweight is a real advantage; not having to cajole an army of strong grips to haul your cart up a flight of stairs or over obstacles!"
Petaluma, CA (PRWEB) September 26, 2013
The new Multi-Media Production Cart® from equipment cart manufacturer Rock N Roller® addresses the needs of the professional film and video industries for an affordable, lightweight, yet versatile equipment cart preconfigured with a 2-tier work shelf system for use as a sound cart, video cart, or DIT station.
The main work shelf measures a spacious 24" x 36", is fully carpeted plywood, with a short lip on all sides for equipment retention. It supports up to 200 lbs. and easily bolts onto the two upright "handles" of the cart.
The carpeted upper shelf (hutch) measures 10" x 36" and supports up to 50 lbs. The hutch mounts to the main shelf with a pair of C-shaped square tubes that readily slide into receptacles under both shelves. In storage mode, these tube supports attach sideways to fold flat against the underside of the hutch. No tools required. The Main shelf and hutch weigh only 22 lbs.
The versatile R12RT frame telescopes from compact 34 inches to extended 52 inches, yet weighs only 34 lbs. including wheels. Use the cart fully extended to haul up to 500 pounds of equipment cases to the location; then shrink it down and mount the shelf system for use as a mobile workstation, even in tight film sets.
The Multi-Media Production Cart features four all-terrain, large diameter, run-flat tires that never need inflation, and allow the cart to easily traverse dirt, grass, cables, and small obstacles. The front, fixed axle wheels are 10" diameter by 3" wide. The rear (steering and pushing) end is equipped with large, castered swivel wheels measuring 8" diameter by 2" wide.
"What I love about the Rock N Roller is its ability to quickly disassemble for shipping," relates experienced Production Sound Mixer Fred Ginsburg CAS. "The two upright sides fold flat, the lightweight frame telescopes, and the shelves can nestle under the frame to keep everything compact, neat, and tidy. It will fit into most small vehicles.
"Being lightweight is a real advantage; not having to cajole an army of strong grips to haul your cart up a flight of stairs or over obstacles!"
For more information, or to become a dealer and add the Rock N Roller® product line to your sales or rental inventory, please visit the website at http://www.FilmTVsound.com/RnR or contact us at Fred(at)FilmTVsound(dot)com