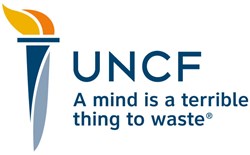 Houston, Texas (PRWEB) September 26, 2013
More than 4,000 individuals representing local business, civic and community organizations joined Mayor Annise Parker and the Houston office of UNCF (the United Negro College Fund) – the nation's largest and most effective minority education association – on Saturday, September 14, at the 28th annual UNCF Walk For Education. Held at Tom Bass Park, the event celebrated the importance of a college education and currently raised more than $190,000 of its $400,000 goal to provide students with the support they need to get to and through college.
"I want to thank Mayor Parker, our sponsors and all those in Houston for coming out on Saturday and literally walking the walk and investing in better futures for our young people," said Michael L. Lomax, Ph.d., president and CEO of UNCF. "They did not simply make a donation, they made an investment in better futures for our young people. The dividend on that investment is ensuring our students, in Texas and across the country, have the education they need, and that we need them to have, in order to be successful in the 21st century global economy."
UNCF enjoys a strong partnership with the Houston community, a fact made clear by the strong presence of large corporate Walk teams and sponsorship support. Sponsors for the Houston UNCF Walk For Education were:
Professor

CenterPoint Energy,
BlueCross BlueShield of Texas
Shell Energy,
Wells Fargo.
Alumni Village

Trail

Finish Line

Scholar

ExxonMobil,
H-E-B,
KBR, Inc.
The Houston UNCF Walk For Education would not have been possible without the services of in-kind contributors:
Majic 102.1,
97.9 The Box,
Coca Cola,
Boeing Space Exploration Team,
Southern Sound,
Just In Time Photography,
Omega Psi Phi Fraternity,
Houston Style Magazine,
The Game Truck,
Harris County Precinct 1.
In addition to Mayor Parker, representatives from Walk sponsors attended and lent their support:
Richard Torres, community affairs representative, Wells Fargo;
Tom DeBesse, regional banking area president, Wells Fargo;
Preston Johnson, president, BlueCross BlueShield of Texas;
Elizabeth Campbell, partner and chief diversity officer, Andrews Kurth LLP;
Mitch Little, vice president of international production operations, Marathon Oil Corporation;
Roger Krone, president Boeing Network & Space Systems, Boeing;
John Elborn, vice president and general manager, Boeing;
Gregory Knight, division vice president customer service, CenterPoint Energy;
Terry Williams, regional vice president, HEB.
"Houston has once again stepped up for students, and I would like to thank all our walkers and supporters who came out and made the Houston UNCF Walk For Education an event to remember," said Juana Collins, UNCF Houston development director. "Thanks to that support our students will have the education and preparation they need to become the leaders that Houston – and the country – need."
About UNCF
UNCF (United Negro College Fund) is the nation's largest and most effective minority education organization. To serve youth, the community and the nation, UNCF supports students' education and development through scholarships and other programs, strengthens its 37 member colleges and universities, and advocates for the importance of minority education and college readiness. UNCF institutions and other historically black colleges and universities are highly effective, awarding 20 percent of African American baccalaureate degrees. UNCF administers more than 400 programs, including scholarship, internship and fellowship, mentoring, summer enrichment, and curriculum and faculty development programs. Today, UNCF supports more than 60,000 students at over 900 colleges and universities.