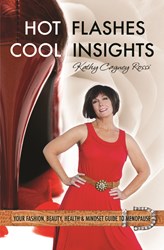 (PRWEB) September 26, 2013
Author, speaker and the creator of the "Hot Flashionista Movement", Kathy Cagney Rossi is pleased to announce the release of her new book Hot Flashes, Cool Insights. Her new work is insightful, fun and informative for all women who at one time or another will be addressing their midlife and menopausal choices.
Every day in the U.S. alone, 6,000 women start menopause and approximately 60 Million American women will be premenopausal this year. Hot Flashes, Cool Insights addresses the reinvention of how women today have a new opportunity to experience their menopause differently than their fore sisters. Because there isn't a one-size fits all solution for treating menopause, Rossi believes it's imperative for women to be educated and informed about their treatment options especially as it pertains to hormone replacement therapy.
The book is also packed with humorous quips, mindful quotes and practical advice. Fashion tips and positive mindset tools are also included to help women discover the beautiful benefits that come with this milestone event. "I implemented what I have learned through my life changes," says Rossi. "Now I want to share it because I believe that it's not just about being okay with who we are; it's about being amazed with who we are, what we can do and how good we can feel." Reaching out to over 150 women who shared their stories on midlife, menopause and so much more, Rossi is able to show us creative ways of using menopause as a stepping stone into a new and improved life.
Hot Flashes, Cool Insights Book Release and Launch Date is scheduled for September 26, 2013. Pre-ordered copies can be ordered through http://www.amazon.com/ or at http://hotflashionista.com/.
About Kathy Cagney Rossi
Kathy Cagney Rossi has achieved success as a Motivational Speaker, Trainer, TV Host and Actress. Kathy specializes in women's topics and, with her approachable personality she has guided countless women through the midlife maze. She and her husband live in Denver, Colorado along with Cayman, their furry four-legged son. You may contact Kathy at http://www.hotflashionista.com.
###