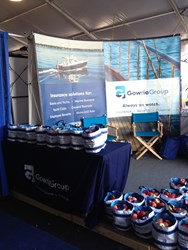 "The Gowrie team enjoys bringing our marine industry clients and friends a healthy gift each year as a way to say thank you for their ongoing business and relationship," said Whitney Peterson, Gowrie Group's VP of Marketing.
(PRWEB) September 26, 2013
Gowrie Group, New England's largest and most prestigious independent personal lines and marine insurance agency, continued their annual tradition of bringing a fresh approach to the Newport International Boat Show. The Gowrie team delivered 60 custom bucket-bags filled with apples to marine industry clients and friends that were exhibiting boats and products at the show. In total, the buckets contained nearly 600 pounds of apples. The Gowrie team also provided apples to the hundreds of clients and visitors that came by the Gowrie display to learn more about the company.
From the hundreds of Gowrie clients and friends that visited the company's display at the 2013 Newport Boat Show, Gowrie selected 5 lucky people to win a 2013 Gowrie Bucket-Bag. Congratulations to the winners: Alan Desrosiers, Gail & Dave Allen, Howard Goldfarb, Linda & David Lee, and Patrick Canavan.
The apples delivered by the Gowrie team were grown locally at Bishop's Orchards of Guilford, CT.