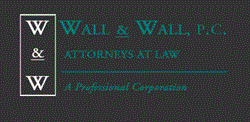 The team at Wall & Wall Attorneys At Law PC is happy to announce that they will be offering a 15% discount on all retainers for Criminal Defense Cases.
Salt Lake City, UT (PRWEB) September 30, 2013
Everybody makes mistakes; some of those mistakes are more serious than others. Occasionally, the fallout from these mistakes end in a court case. This is why the attorneys at Wall & Wall are offering this incredible discount. They believe that people shouldn't have to spend the rest of their lives paying for their mistakes.
In order to help people through what is already an incredibly tough time in their lives, Wall & Wall Attorneys At Law PC is offering 15% off their retainer price for Criminal Defense Cases. When approaching a criminal trial, the last thing the defendant needs to worry about is coming up with money to pay for a lawyer. This discount will help relieve some of the stress of the situation by getting rid of a portion of the money that needs to be paid.
A 15% discount may not seem like much at first glance but when you consider that a retainer for a criminal case can sometimes run in the area of $1000 up to $5000, suddenly that 15% discount shows how big of a sum it truly is. This discount can save a person up to $750, a large sum for a person who is currently going through a criminal case.
If somebody finds himself or herself in a situation where they are looking at a criminal trial, they should be sure to take advantage of this offer from a highly respected law firm. It's not often that someone in this situation gets a chance to save money while securing an advocate that can help them navigate a very scary point in their lives.
About Wall & Wall Attorneys At Law PC:
Wall & Wall is a family-run law firm that specializes in divorce and criminal law and will stop at nothing to ensure that their clients receive a fair and judicious outcome.
Contact:
Cory Wall, Partner
Wall & Wall Attorneys At Law PC
2168 Fort Union Blvd
Salt Lake City, UT 84121
801-441-2388
http://walllegalsolutions.com/