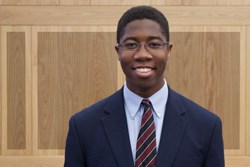 Our students' outstanding performance is a reflection of their hard work and the work of our dedicated faculty members.
Hunting Valley, OH (PRWEB) September 30, 2013
University School senior Christopher Thompson has been named a Semifinalist in the National Achievement Scholarship Program, which recognizes outstanding Black American high school students. The National Merit Scholarship Program also announced that six seniors have been named Commended Students in the 2014 competition, bringing the total number of University School students named Semifinalists or Commended Students to eighteen (18).
All of the US students are among those students earning the highest scores on the 2012 Preliminary SAT/National Merit Scholarship Qualifying Test.
The commended students are: Phineas Callahan, Devin Daugherty, Alec Frankel, Shahbegh Gill, James "Hayden" Lane, and Yuhe "John" Luan.
As reported last week, the eleven (11) University School Semifinalists are: Walker Chieffe, Daniel Cushey, Peter Delaney, Braden McConnell, Andrew Megerian, Victor Mezacapa, Andrew Pokorny, Geoffrey Svensson, Joshua Wang, Jakob Weisblat, and Samuel Weitzman.
"These young men should be praised for their success on one of the nation's most challenging high school exams," said Dr. William O'Neil, Head of the Hunting Valley Campus. "Their outstanding performance is a reflection of their hard work and the work of our dedicated faculty members."
"We are very pleased that so many of our students have been recognized by the National Merit Scholarship Corporation," said Jenny Rifken Fisher, Director of College Counseling. "All of these young men are bright and talented, and we look forward to seeing all that they will accomplish in college and beyond."
About University School:
Founded in 1890, University School is an independent day school, educating boys in kindergarten through grade 12. The school's mission is to develop promising and motivated boys into accomplished and independent young men who aspire to make a difference in the world. University School has two suburban campuses in Cleveland, Ohio: the Shaker Heights Campus for boys in kindergarten through grade 8, and the Hunting Valley Campus, which is home to students in grades 9-12. Visit http://www.us.edu for more information.