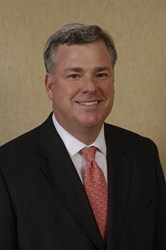 The Woodlands, TX (PRWEB) September 27, 2013
Victory Healthcare announces the appointment of its new Chief Financial Officer, Gregory Cunniff.
"We are pleased to have a talent such as Gregory join the Victory Healthcare family," says Victory CEO/Chairman Robert N. Helms, Jr. "He has a strong finance and operational background working with surgical hospitals and we are confident in his ability to help Victory through the next phase of growth to achieve our goal of 15 surgical hospitals by 2015."
A 20-year industry veteran, Cunniff's expertise centers on helping companies grow. He co-founded an ambulatory surgery center company that grew to 19 centers across 10 states. During his tenure, Cunniff raised and managed millions of dollars of capital and strengthened a company's balance sheet by refinancing debt. He has held various leadership roles in operations and finance, providing him unique insights into the challenges and opportunities in the field. Cunniff comes to Victory from his healthcare-consulting firm, Oxford Surgical Specialties based in Los Angeles, California.
Originally from New England, Cunniff has Texas roots, as a graduate of the University of Texas in Austin where he received a BBA in Accounting. He started his healthcare career in Dallas while with KPMG and Medical Care America. Cunniff is currently a Board Member of the Ambulatory Surgery Center Association and previously served on the Board of Governors and the Healthcare Financing Committee for the Federation of American Hospitals.
About Victory Healthcare
Based in The Woodlands, Texas, privately owned Victory Healthcare is creating the standard in surgical care through its growing network of specialized surgical hospitals, training and education centers, and the only privately held tissue bank in the state of Texas. Our surgeons are the most highly trained and respected physicians in their fields, committed to providing revolutionary technology and minimally invasive treatment techniques. We create a first class experience for our patients in our state-of-the-art facilities that include concierge services, a one-to-one nurse to patient ratio, and personalized service in an environment designed to promote comfort and healing. Victory Healthcare partners with physicians to create an exceptional surgical experience for our patients, their families, and our surgeons. Learn more about the Victory difference – a dedication to healing through education, technology and first-class care - at victory-healthcare.com or follow us on Twitter @VictoryCor.